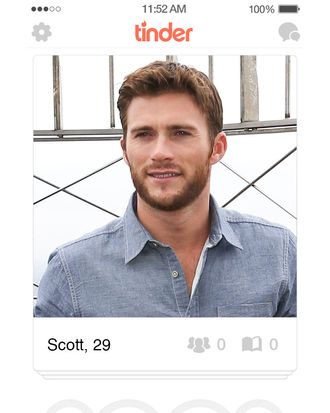 Somewhere in the world, women are right-swiping on Scott Eastwood, thinking they've hit the jackpot, but be warned: That Tinder profile is not what it seems. The actor put on a shirt just long enough to go on Live! With Kelly and Michael and shatter dreams with the news that someone is impersonating him on Tinder. If you see a Scott Eastwood, 29, you, madam, are being catfished.
Now, in olden times (the AOL era), if someone claimed to be a celebrity online — say, a person in a chat who says they are J.T.T. — you'd know it was B.S. But these days, since actual celebrities walk among us on Tinder, there's the real possibility that it could be Scott Eastwood. How are we ever to know which way to swipe? Swipe left, and potentially miss out on your very own Win a Date With Tad Hamilton. Swipe right, and end up on MTV's Catfish.

This modern predicament sucks for all those normies getting duped. But what about those celebrities who really are trying to find love (or its distant cousin, a one-night stand) via Tinder? What are they to do if nobody believes it's them, if other people continue to hijack their identity for personal gain? How will they ever find a mate?
Resort to asking their agent to set them up with another good-looking celebrity, I suppose. Modern woes.