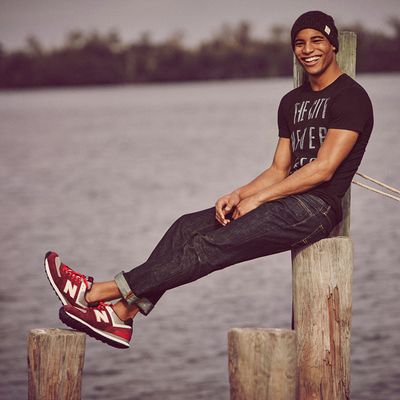 Abercrombie & Fitch's new look.
Photo: Courtesy of Abercrombie & Fitch
Today, in a watershed moment for malls everywhere, Abercrombie and Fitch announced some much-needed changes to its store policies and adjustments to its brand imagery. Following the abrupt departure of its longtime CEO Mike Jeffries back in December and its Supreme Court discrimination lawsuit in February, the retailer will no longer hire based on body type or physical attractiveness. Also: No more hunks at Hollister.
Abercrombie and Hollister are nearly unrecognizable in these photos — there are no abs of steel, no suggestive T-shirts, and the tweens are dressed in what people might call "age-appropriate" clothing. There's about as much sex appeal in these shots as an ad for Talbots.
"By the end of July, there will no longer be sexualized marketing used in marketing materials, including in-store photos, gift cards, and shopping bags," the statement said. (The exception will be the A&F Fierce cologne gets to keep its shirtless model image, "consistent with the fragrance industry.")
And, as for its hiring policies, the label says store associates won't be hired based on body type or model looks. The new dress code has an "open-minded approach allowing associates to be more individualistic." (We're guessing this means hijabs are now allowed, unlike the former "look policy," which did not permit headwear of any kind.)
The statement also attempts to address the many discrimination suits the retailer has dealt with over the years, claiming that over 50 percent of the store associates are nonwhite and it was named Best Place to Work for the LGBT Community from 2007 through 2014. (Weird … it seems like every time we stop by to pick up some overpriced, pre-wrinkled shirts, we most often see blond people. But the lights are so dim, who knows.)