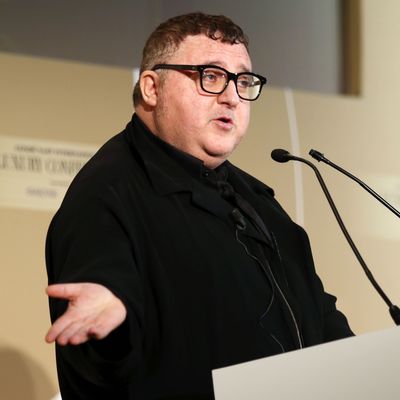 Alber Elbaz.
Photo: Andreas Rentz/Getty Images
The ever-charming Lanvin designer Alber Elbaz spoke at the Condé Nast Luxury Conference in Florence last week. Titled "Can Computers Ever Replace the Creative Mind of a Fashion Designer?" his speech veered from hilarious, self-deprecating anecdotes, to thoughtful insights into how luxury fashion can continue to be relevant in a high-tech world. If he ever gets tired of designing dresses, he could have a glittering career as an after-dinner speaker. Read the highlights below.
On the limits of computers: "Computers do not have intuition. Computers are machines — machines with brains, but machines without hearts. Yesterday morning, just before coming here, I asked my computer, 'What's the weather in Florence?' and the answer was '24 degrees.' Then I asked, 'Do you love me?' and the answer was 'How would I tell?' Computers: brain, but no heart."
On a recent party for Lanvin clients: "I did, in three hours, 387 selfies. With the ladies, and then with the ladies and their husbands, and the ladies and their girlfriends. It was amazing — and statistically speaking, out of 387 people, you know that at least five of us had the flu."
On new technology: "Many years ago, when I started in fashion, I talked about design in terms of good design, and bad design, and beautiful design. Today we talk about 'smart design.' Last month, I checked into a hotel. The hotel was built in the 17th century, but the room was not 17th century — it was a modern, smart room. It took me 30 minutes just to figure out how to shut off all the lights. By the time I understood the system, I couldn't go to sleep.
"Three days ago I flew back from Paris, and the flight attendant introduced herself, and she said, 'Now we have smart chairs for our first-class passengers.' … There were three buttons on the left, and a touchable screen on the right, and she said, 'All you have to do is navigate.' I was thinking, I'm not going to be a navigator. Let the pilot fly and take us safely to Paris. I just want to sit and read a book, and just put my feet up. … So I did what the chair wanted me to do. [Mimes arms and legs flailing in all directions.]
"… Innovation doesn't always work. The result can be disappointing. But it is important to be a part of the creative process — to believe in innovation, and to keep experimenting."
On not needing to know it all: "I didn't read the book of Steve Jobs. And I didn't go to the movie, and I love Ashton Kutcher. I want to keep this genius man in my mind as a mystery and an enigma. The more we know, the more we think. The less we know, the more we can dream of flying. We don't have to know everything. Sometimes we have to go with feelings and intuition, to be able to dream."
On the Apple Watch: "Since my friend and ex-colleague Paul Deneve is here from Apple — we used to work together at Lanvin — I'd like to say something about the iWatch. And you know, Paul, I'm not a kiss-ass, and I'm not looking for a job at Apple. But I'm telling you: It's wonderful.
"… In Paris I was invited to a party celebrating the launch of the iWatch. It was the best dinner party in Paris — fun and happy and grateful. I came very late to the party, and I looked at the whole industry, the whole room from the outside because I was not seated. Our industry — the industry of fashion — looked a bit tired, a little bit confused, a little bit stressed and anxious. The Apple boys — they looked sexy and glamorous and beautiful, and they were having fun. I was thinking on my way home, and I couldn't stop thinking about it, and I was saying, 'How come technology took over the glamour of fashion?'"
On the designer's role in a high-tech world: "We should not be afraid of changes. We have to look forward to the future with no fear. We should celebrate tradition and heritage. The job of the designer today is maybe to combine yesterday and tomorrow, tradition and newness. And when you mix between yesterday and tomorrow, you create … a strong product. And a strong product is a smart product. That's it. When we make it smart, we make it a little bit less intellectual, a little bit less cold, a little bit more friendly. Because we're people. We buy with our heads, but most of the time we buy with our hearts. We need more beauty. We need more emotion. We need more collaborations. … And lastly, we need maybe to love each other a little more."