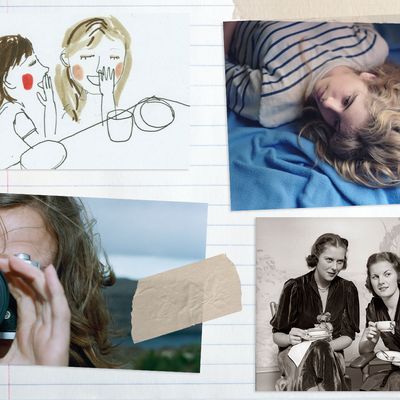 This week, the Cut explored the complicated realm of female friendship — from clique-stalking and mean girls, to friendship divorces and friend-envy (friendvy?). In case you missed it, here are all of our Friends Forever stories, including a friendly gift guide for all occasions, a guide to mutual complaint, and some advice from our very own Ask Polly.
WE HEARD FROM TWO SIDES OF A FRIENDSHIP THAT ENDED BADLY. Spoiler alert: They still aren't speaking.
AND EXAMINED FRIENDSHIPS THAT HAVE LASTED A LIFETIME. Heather Havrilesky went long on the one friend she can't seem to quit.
WE SWAPPED CLOTHES. Sometimes the grass is often greener.
WE COPPED TO OUR MOST BAD FRIEND BEHAVIOR. Eleven women share tales of betrayal, backstabbing, exclusion — even one case of petty theft.
WE SAW A GROUP OF FRIENDS GROW UP ON FILM. Karen Marshall's photo project tracks a group of Upper West Side teens across a span of 30 years.
WE EXAMINED THE PHENOMENA OF CLIQUE-STALKING. Honey, we've all been there.
WE CONSIDERED WHETHER POLITICS COULD COME BETWEEN US. Are there certain subjects that should be avoided with friends, as with family?
WE BROUGHT FRIENDSHIPS BACK FROM THE BRINK OF RUIN. Emily Gould wrote about how writerly envy nearly alienated her best friend.
WE GAVE THANKS TO THE FRIENDS WHO SHAPED US. Carina Chocano took inventory of the friendships that made her into the woman she became.
WE DIVULGED THE SECRET OF STAYING CLOSE. Sometimes it isn't the length of the time spent together, but that you get together at all.
WE HEARD FROM SOME FAMOUS WOMEN ON WHAT FRIENDSHIP MEANS TO THEM. 25 famous ladies, including Roxane Gay, Margaret Cho, and Mindy Kaling, dished on the important females in their life.
WE DISCOVERED NEW WAYS TO STAY IN TOUCH. Trading selfies, for example.
AND WAYS TO COMMEMORATE TIME SPENT TOGETHER. Joana Avillez and Dasha Tolstikova gave us a peek at their private sketches.
WE MET FRIENDS WHO SHOWED US A DIFFERENT WAY OF LIVING. Nell Freudenberger examined the friend who reflected back to her the life she could have had if things had gone another way.
WE WONDERED HOW TO COPE WITH BEING UNFRIENDED. Polly gave advice on how to weather a friendship divorce.
WE CURATED A FRIENDSHIP GIFT GUIDE FOR ALL OCCASIONS AND PRICE POINTS. Including glitter balloons, nursing bras, and bourbon.
WE WATCHED A CO-CONSPIRATOR GROW UP TO BECOME AN ICY MEAN GIRL. Jillian Dunham tracked the trajectory of a sweet friend gone sour.
WE ADMITTED TO A LITTLE BITCH BACK TALK. And gave instructions on how to properly do so.