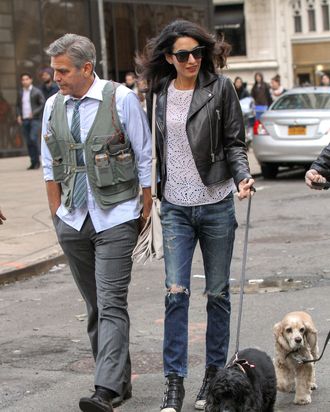 George and Amal Clooney.
Photo: Nancy Rivera/Bauer-Griffin/Getty Images
Famed guest-lecturer Amal Clooney was seen enjoying a leisurely Sunday stroll in New York yesterday, sporting her off-duty garment of choice: ripped jeans. She stopped by the set of Money Monster to pay a visit to her industrious husband and show off her edgy-yet-refined taste in weekendwear. Accompanied by the couple's two cocker spaniels, Louie and Einstein, Amal opted for a breezy eyelet blouse and black Balenciaga biker jacket, which she accessorized with a suede-fringe shoulder bag. George, meanwhile, looked somewhat less casual in a green canvas vest covered in prop explosives.