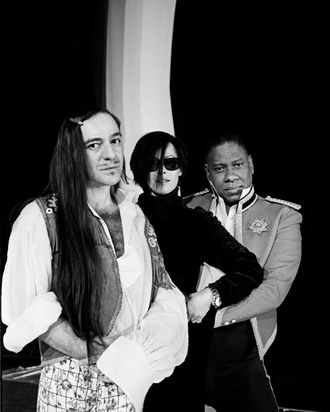 John Galliano, Amanda Harlech, and André Leon Talley in 1996.
Photo: Courtesy Penguin Press
There's a new theme every day on It's Vintage. Read more articles on today's topic: Galliano's São Schlumberger show.

In 1994, John Galliano was a man on the brink. The designer had lost his backer and was living in squalor in Paris. Galliano was lucky enough to have a support system that quickly mobilized — editors (notably Anna Wintour), models, accessory designers, and some generous benefactors worked together to make sure Galliano stayed on the fashion calendar. The show that resulted is still talked about as a watershed in his career. André Leon Talley was instrumental in helping to get the designer back on his feet — not only did he connect Galliano with a new backer and arrange to show at São Schlumberger's home, he recalls that he did everything from going on McDonald's runs for the staff and serving as an usher at the show. Talley spoke to the Cut about the lead-up to that crucial show.
You played a key role in helping arrange John's  show and securing São's home as a venue. How did it all come together?
I had gone to a show of his and all of a sudden, I was told that all of his backers had pulled out after this great show he had. John was sleeping in a sleeping bag on the floor of a friend's house. And when I heard that news, I was totally shocked and devastated. I didn't know John [well] at all — we were not good friends. I had met him in his earlier days in London when he was young and he had just started. But when I got this news I was very shocked and wanted to do something to help him. So I had friends who knew John Bult, who worked at Paine Webber. He had expressed some sort of desire to perhaps invest in some sort of fashion concern. He sat me down in the lobby of the Bristol hotel, and he said, What do you need? I said, We need to get money so that John Galliano can have his show — he cannot skip this season, he just had this extraordinary show. John, [his right-hand man] Steven Robinson, and I went to Mr. Bult's lawyer's office one night and the plan was waged that he would have $50,000 to produce his show.
From there, we started looking for venues. We went in cabs going around Paris looking for sites. We were on the Avenue de New York one day, and it dawned on me — I said, Let me ask my friend São who has a house she just moved out of. She went from a Left Bank hôtel particulier to the Right Bank. We took her to lunch: São, we have a favor to ask you. Could you consider letting us use your former house — a landmark 17th-century townhouse — as the site for John Galliano's show? She smiled and said, Yes. Just give me time to go have my eyes touched up a little bit. Meaning she was going to have a little eye-lift. So, she gave us the house; she never charged a dime. And then we got Manolo Blahnik to do the shoes, and [stylist] Amanda Harlech went to all the fine jewelers in Paris and the Place Vendôme and she picked out all the jewelry, and up on the fourth floor of Ms. Schlumberger's house were all of the guards protecting the great jewelry — because John wanted to show real diamonds with these clothes. And the models did it all for free — Kate Moss, Christy Turlington, Naomi Campbell — everyone pitched in because John Galliano was worth it. He was literally sewing Kate into her dress the morning of the show.
We had the show on the main floor. It went up this marble staircase and all the reception rooms, and the girls wafted through the reception rooms and then they got dressed upstairs and came down these steps. It was just an incredible moment. It was one of the first times that fashion had gone back to intimacy. Because people were still showing with big runways, and here we were in a townhouse with like 20 girls, very much like an old-world couture salon show.
As with many of John's shows, and even with his most recent Margiela show, the models were given a lot of direction about how to act — they were walking around in this very dramatic fashion.
That's very much John's aesthetic. Every dress has a narrative, every dress is a heroine, every dress is a character. When Amanda Harlech worked with John, she wrote little stories. It was always very much directed, the way Hitchcock would do a storyboard for a film. It was always on paper.
Had you ever known any other designer to do that? That sounds incredibly detail-oriented.
Not to that degree. I had never seen people go to the lengths of creativity where I saw John and Steven and Amanda Harlech. For instance, Amanda Harlech, when I went to her house in Wales to shoot her for Vogue, she was going on the beach and collecting broken glass, rocks, and shells. And I said, What are you doing? Why are you picking it up? And she said, I'm putting them in a box to send to John for colors. She shipped them off to Paris, and she would send handwritten pieces of paper with the story.
This show was proof that people really cared about John's talent, since so many people worked for free or donated items or helped in some way. I feel like now that would never really happen, because there are so many funds for young designers — the LVMH Prize, the CFDA Awards. 
I think you're right, but in 1994 that was rare, especially in a place like Paris. You needed someone like myself who is a fire-engine driver. I was driving the thing. I went to John in the middle of the night in his studio, where they were warming up tinned food on Bunsen burners, heating up beef stew out of a can, and they were working on the toiles, and I said, Oh this is going to be extraordinary. He was going through very rough times. He had to come out of the dark into the light again. And I just felt that I [had to] do whatever I could.
At the time, you said Galliano was an endangered species. And I think it's really extraordinary that all these people came through for him in that time.
John didn't tell me he was sleeping on the floor — someone else said to me, Oh John doesn't have a backer anymore, and I said, What are you talking about? He didn't tell me that.
Right, he was too proud.
He was too proud, or too shy, too inward, too withdrawn. John was a mess, he couldn't talk, he was so nervous. He [and his cohorts] were like these wonderful, wonderful children who just lived in their own world of creativity. They didn't seem to be affected by outside rules or codes of behavior. John could live in a sleeping bag just as a well as in a queen-size, four-poster bed.
He made much of the collection out of the same black silk crepe, out of economy. 
Absolutely, we [only] had $50,000! But the clothes were fabulous. The clothes were extraordinary. It would be a pink obi on a black smoking jacket on Linda Evangelista; you've never seen anything so beautiful! Just Linda Evangelista in a black jacket, tailored and cut to perfection, and maybe a sash of pink, and then beautiful stockings, and beautiful Manolo Blahniks — very attenuated needle-heel shoes. The hats were by Stephen Jones, and they were cloches. And then Nadja Auermann had on a cloche with a huge diamond pin that was just amazing, and her legs just went from her neck through the floor. She was wearing a black shearling coat that had been turned upside-down, inverted so the bottom of the coat became the collar. John had his own shearling coat that he turned upside-down like that when they were going to the Ritz one day for lunch.
Were you involved in the creative side?
No, I never got involved. Never did I step across the line in the sand with John and Steven. I never wanted to. I admired it, I looked at it, it was fabulous, [but] I was never allowed to sit in on the creative moments — not that they were secretive about it, but when they were creating and designing all I had to do was look at it.
How did this show fit into the context of his career as a whole?
It was the show that made him who he was. It put him on the map. It was the show that led him to Givenchy and Dior. [But] we were never thinking we were making the greatest thing. We just did it.
This interview has been edited and condensed.