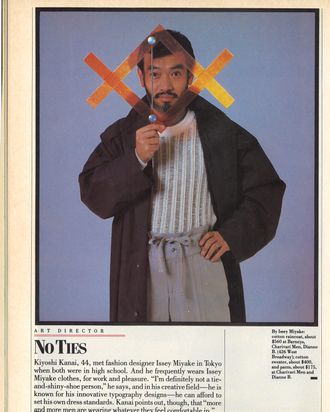 There's a new theme every day on It's Vintage. Read more articles on today's topic: Anna Wintour at New York Magazine.
While most of Wintour's shoots focused on women's fashions, that doesn't mean menswear got the short shrift. In "The International Style," she spotlighted New York men who draw their style cues from other world capitals like London, Paris, and Tokyo — including a cool, Issey Miyake–clad art director to a Columbia law student/DJ clutching a stack of textbooks under his arm. (There's also a finance whiz who says, in a way we can all relate to, "I'm tired of being told I look like a Kennedy.")
A quieter section shows men's fashion juxtaposed with elaborate still lifes and punctuated with Oscar Wilde and Samuel Johnson quotes. Click through the slideshow to see all the menswear-driven features.