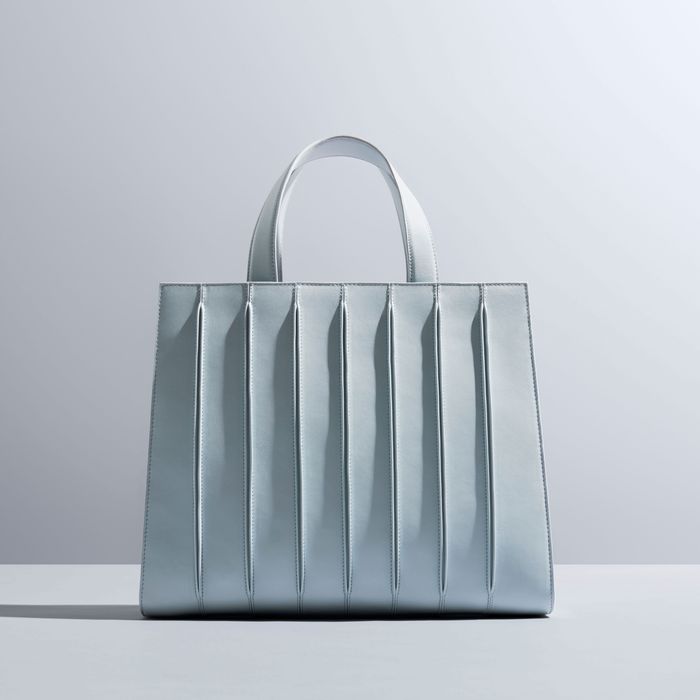 Max Mara Whitney Bag, designed by Renzo Piano Building Workshop.
Photo: Courtesy of Max Mara
The new Whitney Museum doesn't officially open until May 1, but last night the fashion and art crowd gathered at the neighboring Standard Hotel in the Meatpacking District to toast the Renzo Piano–designed building. To celebrate, Max Mara creative director Ian Griffiths teamed up with the Renzo Piano Building Workshop on a limited-edition "Whitney Bag," inspired by the shape of the building, which made its debut at last night's cocktail fête.
"I've never been asked to design a bag around a building," Griffiths told the Cut, as he looked on at the structured white bag. "But I come from an architectural background, so designing a bag in conjunction with an architect wasn't so difficult after all. The nature of the Whitney building lends itself very nicely to a bag, particularly the skin surrounding it — that was conceptually quite easy to translate into a bag, but it was the technical realization of that, which was very difficult." Griffiths also said they even had to update their "centuries old" techniques in order to get the precise effect of the ribbing around the bag. "I just hope that in 20 years' time, the bag is as much of an icon as this building." The white version, shown above and lined in a rich red, is already sold out, so that's a good sign.