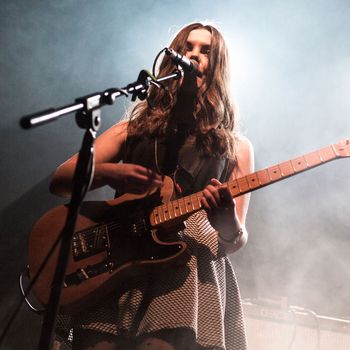 Honeyblood.
Photo: Andrew Benge/Getty Images
The last weekend of this miserably cold March, the two-piece Scottish band Honeyblood was perching outside a Boston bar-venue. An extremely loud dude-band sound-checking mercilessly and endlessly had driven us outside. A gruff, punctilious bouncer chased us out and ushered our beers back into the bar. As it happens, dealing with annoying men who don't know how annoying they are is Honeyblood's post-riot-grrrl purview.
Singer and guitarist Stina Marie Claire Tweeddale and drummer Cat Myers have just returned from a successful run at SXSW, and are about to begin touring with Belle & Sebastian. While the three of us twist and wiggle outside in too-light coats, I tell them that "Super Rat" reminds me of the seminal anti-asshole anthem "No Scrubs" in every way but the sound.
"Oh yeah," Stina laughs, "it's the same dude." She wrote the song to cheer up a friend. "I personally don't know Super Rat," she says. "I know of him and I know all the bad things he's done." She saw him in the crowd at one of Honeybood's shows once, and smiles generously while remembering his jerkish obliviousness: "He was like, Yeah, it was good," after listening to her sing, "I will hate you forever. Scumbag! Sleaze! Slime! Ball! Grease! You really do disgust me-e-e-e-e!"
"Nearly half the songs I've written are after I've sat with my friends and just had a little joke with them and gone and written a song from them," she says. The songs do have an intimate, conversational urgency, even at their most literary. "Choker," inspired by Angela Carter's The Bloody Chamber, is about an implied relationship with the Marquis de Sade. Stina also cites Wide Sargasso Sea, Leonard Cohen's novels, and sensitive chats with friends. "Anywhere But Here" was a parting gift to a friend who left Glasgow for Berlin. The song is a plea not to leave; restlessness, the lyrics imply, can't be solved by moving. It's the type of thing people in cold climates say to themselves. It must be said though, for all of Honeyblood's Scottish pride, they're often described as having a California sound.
"That's fine," says Stina with a cheer, "because I wish I was from California. We live somewhere where it rains a lot and it's cold most of the time. I think Honeyblood music is quite sunny, but also very angry. Angry sunny music. It's music that you can dance to and have a good time to, but actually, it's got an underlying angry vibe to it. Sometimes, it's good to be angry and get it out."
The band takes its name from the ingredients of a fake-blood mixture that Stina spit over the audience at a Halloween concert. ("Ew," she says, at the memory.) Sweet, gross, angry, playful: It's good to get all that stuff out.