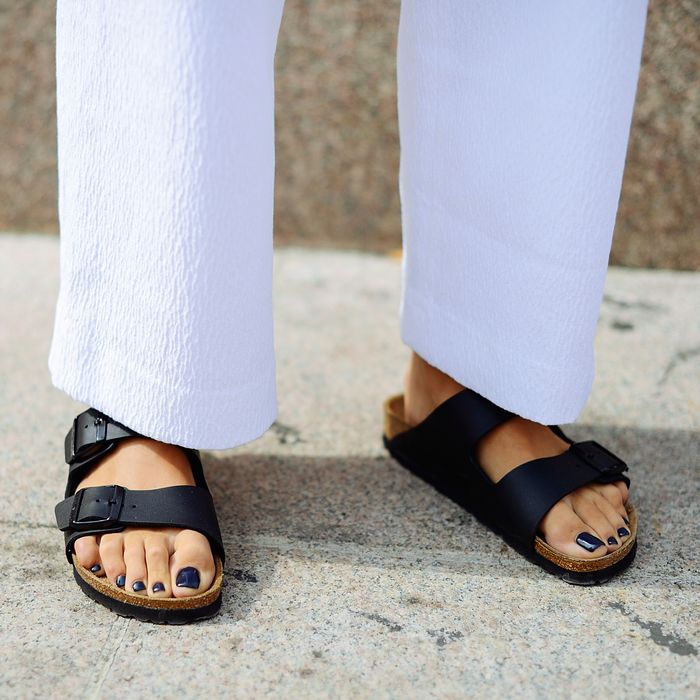 Fashionstocks.
Photo: Vanni Bassetti/Getty Images
Fashion's blessing upon Birkenstocks, bestowed sometime around the spring of 2014, was a kindly and gentle benediction, welcoming comfort and soft footsteps of the normcore path. Birkenstock, however, is not amused.
Birkenstock senior vice-president David Kahan has rejected normcore's blessing. In an interview with Vamp, Kahan protests, heartily and perhaps too much, that "within Birkenstock, we have never used the term, not even once." But, he cries out, what even is normcore?:
What does "normcore" mean? I guess if it means consumers want to be comfortable in what they wear, or want their wardrobe to be built around core items that may remain in their wardrobe more than one season, than sure, that speaks to what Birkenstock is all about.
With a resentful and reluctant acknowledgement, Birkenstock admits that the "core" aspect might be relevant, but that's all the brand will say on that matter. Birkenstocks don't need normcore; they don't need anyone. These sandals were made for gently ignoring conventional trends, and that's just what they'll do forever and ever, amen.