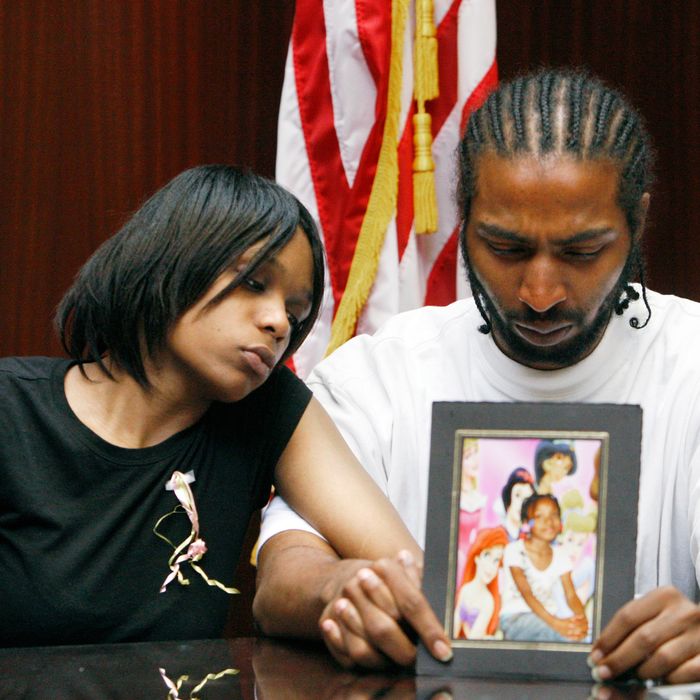 Mother, Dominika Stanley, and father, Charles Jones, of 7-year-old Aiyana Jones, who was shot in her home back in 2010.
Photo: Carlos Osorio/AP
Last week, Dante Servin, a Chicago police officer, was acquitted of involuntary manslaughter for fatally shooting an unarmed black woman in the back of the head in 2012. Servin was off-duty when he encountered a young woman named Rekia Boyd hanging out with friends in an alley; he confronted the group for being too loud and an argument ensued. Servin alleges that he saw what he thought was a gun and fired several shots at the group, who, by that point, had their backs turned and were heading in the opposite direction. No gun was found at the scene and a witness to the fatal shooting said Servin was "constantly shooting" and "trying to kill all of us."
Servin was the first off-duy Chicago cop to be charged with manslaughter in 20 years. The ruling acquitting him was paradoxical: In order to prove involuntary manslaughter, prosecutors had to show that Servin acted recklessly, but according to Illinois law, intentionally firing at someone on the street "is an act so dangerous it can't be considered reckless," Judge Dennis Porter wrote. "It is intentional and the crime, if any there be, is first-degree murder." In his opinion, Judge Porter lamented the fact that Servin wasn't charged with murder, but then acquitted Servin because the involuntary-manslaughter charge wasn't strong enough.
A day later, Michigan news outlets reported that the cop who killed Aiyana Stanley-Jones had been restored to active duty. Like Boyd, Stanley-Jones was unarmed. In 2010, the 7-year-old was sleeping under a Hannah Montana blanket at her grandmother's house when she was shot in the head in what Officer Joseph Weekley said was an accidental discharge during a midnight raid. (Detroit police were searching for a man who may have committed a recent murder; they were also being tailed by an A&E film crew for an episode of The First 48.)
Even though women account for 20 percent of unarmed people of color killed by the police between 1999 and 2014, their cases rarely garner the attention that the deaths of black men and boys do. Part of that has to do with the widespread assumptions about racial violence. "From lynching to police brutality, the presumed victim is a black male," Dr. Treva B. Lindsey, an assistant professor of women's, gender, and sexuality studies at Ohio State University, explained to Dame. "Therefore, black women and girls are viewed as exceptional victims as opposed to perpetual victims of anti-black racial violence."
The gendered assumptions around victims of police brutality have cropped up in protests and efforts to track excessive police force. A slideshow on the Root — "Black and Unarmed" — only showed men and boys killed by the police. Though Black Lives Matter was started by three queer black women, most posters at the protests that have sprung up across the country in the wake of Michael Brown's death only list male victims of police brutality. In the wake of last winter's #BlackLivesMatter protests, Evette Dionne put it succinctly when she wrote, "all black women request is that our deaths matter too."
The understanding of black victimhood as male can lead to broader initiatives that leave out female victims. When Obama launched his My Brother's Keeper program, hundreds of women of color signed a letter requesting the inclusion of girls. "The need to acknowledge the crisis facing boys should not come at the expense of addressing the stunted opportunities for girls who live in the same households, suffer in the same schools, and struggle to overcome a common history of limited opportunities caused by various forms of discrimination," the letter stated.
Black girls are subject to discipline that's harsher than punishment doled out to white girls; they're also six times more likely to be suspended. (Black male students suffer, too, but the racial disparity in punishment is greater for girls than it is for boys.) On the street, black girls face police harassment just like their brothers and male cousins. In one instance, four black girls (ages 8, 9, 13, and 16) were stopped and even though cops found nothing illegal, the girls were taken to a precinct and had to wait until their mom picked them up.
Black mothers are vulnerable to police violence as well. In one case, a black woman was made to put her infant child on the sidewalk so police could search the stroller for drugs. (Nothing was found.) Tarika Wilson's 1-year-old son was injured when cops killed her during a drug raid. Not only was she unarmed, she was holding him when she was shot. When Miriam Carey was killed in a hail of bullets, her 1-year-old daughter was in the backseat. A few weeks after Eric Garner died in an illegal chokehold, a New York police officer put a seven months pregnant woman in a chokehold after a dispute over illegal grilling.
And being female makes black women especially vulnerable to sexual harassment. During a stop-and-frisk in New York, a police officer searched a young woman's phone, then copied her number down in order to send her threatening text messages. Most recently, former Officer Daniel Holtzclaw was charged with the rape and sexual assault of 13 black women carried out while on-duty.
Black women and girls are killed in their homes, outside their homes, in the street, and even while in custody. (Natasha McKenna, a mentally-ill black woman, was likely Tasered to death in police custody while fully restrained.) In either direction, age doesn't seem to protect black women from excessive force. Aiyana Stanley-Jones was 7; Tyisha Miller was 19. Pearlie Golden was 93 when she was fatally shot in her home by police; Kathryn Johnston was 92.
As cases across the country have shown, black women are not exceptional victims. Yet stories of female victims of police violence don't fit into the familiar narrative and thus don't get the same attention, despite the efforts of black feminists. These women and girls have lost their lives — now they're in danger of being forgotten.