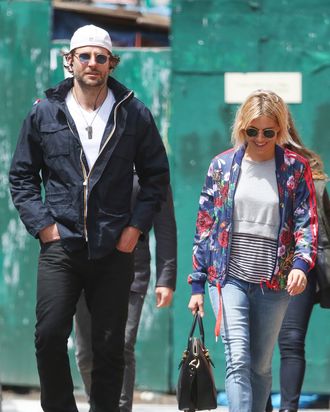 Bradley Cooper and Sienna Miller.
Photo: Dave Spencer/Splash News
This afternoon, friendly pals Bradley Cooper and Sienna Miller enjoyed a sunny, social walk in downtown New York — moving their feet while chatting and catching up, as friends do.  Brad, a fan of practical footwear and master of casual dressing, was seen wearing a chill backwards baseball cap and his trusty Merrell hiking boots, as well as a pair of discreet, under-the-shirt earbuds. Under the guise of companionship, he strutted around the city casually immersed in the soundtrack of his life. Or maybe he's just listening to a really good podcast?