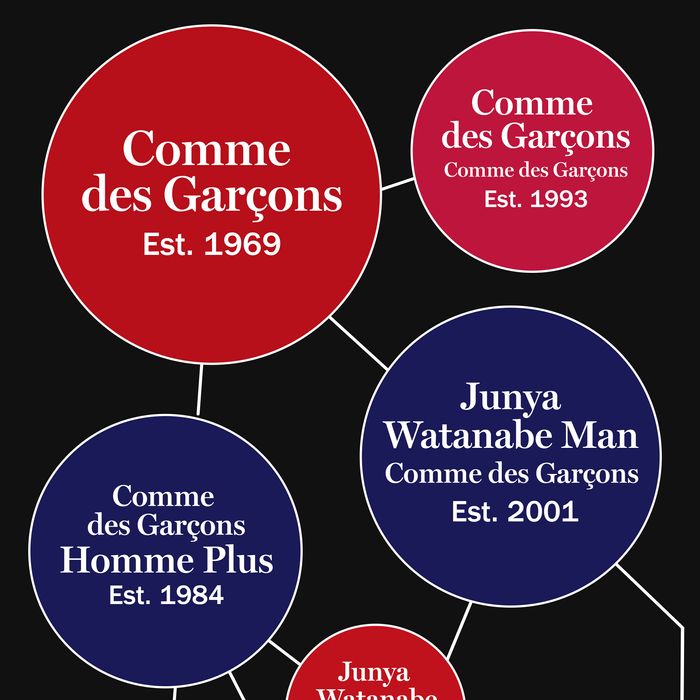 There's a new theme every day on It's Vintage. Read more articles on today's topic: Comme des Garçons.
Since Rei Kawakubo founded it in 1969, Comme des Garçons has gone from being a standalone label to a fashion juggernaut. And even if you're in the know about all things avant-garde fashion, you'd need a Ph.D. in CDG to be able to list all of the labels that have sprung up from Kawakubo's initial vision. Get to know the 17 different branches of the CDG family, from free-spirited PLAY to goth-friendly noir kei ninomiya.
Comme des Garçons
Est. 1969
The original brand in the Comme des Garçons family was founded by Rei Kawakubo in Tokyo. She held her first show in 1975, and began showing in Paris in the early 1980s. Her clothes reached an international audience, some of whom didn't know what to make of the tattered black pieces with intentional holes. Her designs were intended "for the woman who is independent, who is not swayed by what her husband thinks," Kawakubo told the New York Times in 1983.
Comme des Garçons Comme des Garçons
Est. 1993
Nicknamed "Comme Comme," this brand is dedicated to basics. In 2004, the company folded its existing brand, Robe de chambre Comme des Garçons, into the label.
Comme des Garçons Homme Plus
Est. 1984
The men's collection, designed by Kawakubo, began showing in Paris in 1984. At the time, the loose, relaxed designs stood out from the more structured menswear of the time. Key looks included a jacket intentionally sewn inside-out .
Comme des Garçons Homme Deux
Est. 1987
The collection focuses on men's business suiting, and fuses traditional Japanese techniques with hallmarks of Western businesswear.
Comme des Garçons SHIRT
Est. 1988
The brand began with a focus on a single garment: the shirt. The collection has since expanded to include pants, jackets, and accessories.
Junya Watanabe Comme des Garçons
Est. 1992
Watanabe is known for making his designs out of unusual and unexpected materials like aluminum pipes, and has experimented with glow-in-the-dark fabrics. He has been showing his collections at Paris Fashion Week since 1993.
Tricot Comme des Garçons
Est. 1981
Tricot means knitwear in French, and the brand has expanded from knits-only to a wide variety of fabrics. It is designed by Tao Kurihara, a former mentee of Watanabe's.
Junya Watanabe Man Comme des Garçons
Est. 2001
For his men's collections, Watanabe has experimented with printed denim, sports companies like The North Face, and heritage brands like Macintosh. The men's designs became so popular amongst women that in 2003 he created a similar collection for women called Junya Watanabe Man Pink Comme des Garçons.
Comme des Garçons Homme
Est. 1978
"Good Sense Good Quality" is the brand's tagline, and it is known for unfussy classics like the wrinkle-processed shirt. Watanabe became the designer of the collection in 2003.
eYe Junya Watanabe Man Comme des Garçons
Est. 2005
This offshoot of Junya Watanabe Man Comme des Garçons has featured collaborations with Lee and Levi's denim, New Balance, and Brooks Brothers, among others.
Ganryu
Est. 2007
Designed by Fumito Ganryu, the line's tagline is "pop, avant-garde and basic." Ganryu is known for playful, oversize looks infused with street influences.
PLAY Comme des Garçons
Est. 2002
PLAY focuses on casual basics like T-shirts, polos, and cardigans. The memorable logo, designed by Polish artist Filip Pagowski, consists of a heart with oversize eyes, and has appeared on the likes of Diane Kruger, Kanye West, Drake, and Alexa Chung.
Black Comme des Garçons
Est. 2009
Black was launched in response to the 2008 financial crisis. The prices for the line were 60 percent those of the collection line, making the pieces relatively affordable. While it was launched as a temporary line, it ended up being continued because of a positive response from customers.
The Beatles Comme des Garçons
Est. 2009
This collaboration began when Apple Corp approached the company about a joint project. The resulting line combines the Beatles' apple logo with Comme des Garçons' signature polka dots. The line consists of T-shirts and bags in whimsical shapes, including a yellow submarine design.
Comme des Garçons parfums PARFUMS
Est. 1994
The first perfume released by the brand, an eponymous, unisex fragrance, was intended to be an "anti-perfume." At the time, Kawakubo said it "works like a medicine [and] behaves like a drug." Subsequent perfumes have featured arcane notes like burnt rubber, lettuce juice, and dust on a lightbulb. In 2014, Pharrell partnered with the brand to release the fragrance GIRL, with a bottle specially designed by KAWS.
Wallet Comme des Garçons
Est: Around 1980
As its name suggests, this division specializes in wallets, as well as iPad cases, coin purses, and business-card holders. Bright, poppy colors and polka-dot prints are hallmarks of the line.
noir kei ninomiya
Est: 2012
Designer Kei Ninomiya has a degree in French literature from Aoyama Gakuin University and went on to attend Antwerp's Royal Academy (the alma mater of Martin Margiela and the Antwerp Six). He joined Comme des Garçons as a pattern cutter in 2008, and was given his own label in 2012.