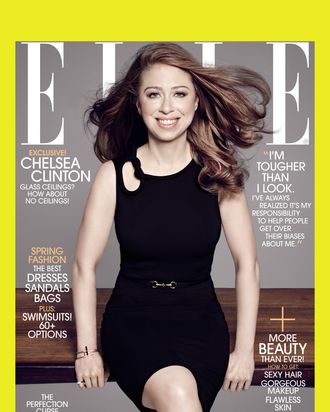 Photo: Paola Kudacki for ELLE
May's Elle cover features Chelsea Clinton, along with an interview covering everything from how she'd feel about Charlotte's grandmother becoming the next leader of the free world (and first female president of the United States!) to the pressures she feels herself as a woman in a leadership role.
She tells editor-at-large Rachael Combe about the first grand-baby (FGBOTUS):
"[She] is just the most remarkable little bubbly, perfect, chunky monkey creature ever."
And on why we need a female POTUS:
"[Absolutely] it's important, for, yes, symbolic reasons—symbols are important; it is important who and what we choose to elevate, and to celebrate…Who sits around the table matters. And who sits at the head of the table matters, too."
The issue is out April 14.