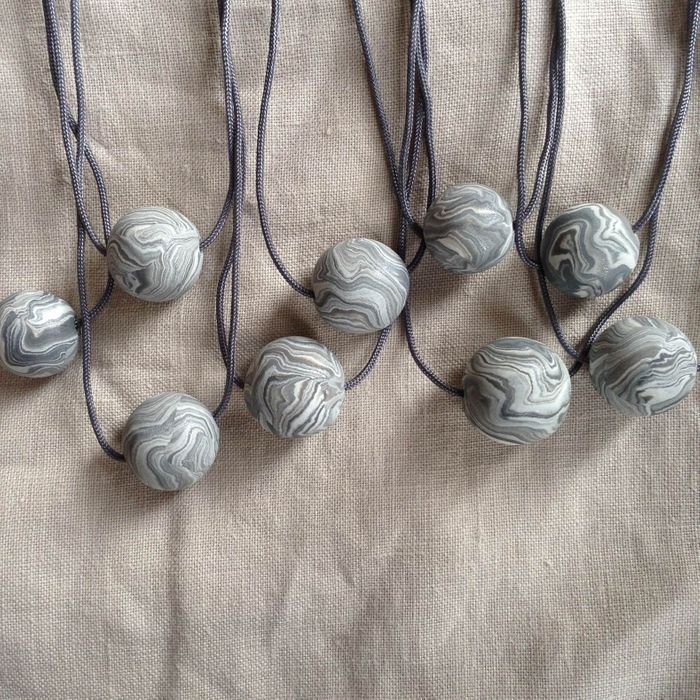 Photo: Courtesy of Marbelous
Sue Kramer and Rae Olmi met after moving next door to each other in Park Slope in 2006. Soon, they became friends — and so did their young daughters, Tess and Lutéce. Nine years later, the now-10-year-olds (who happened to be born the same year, day, and time) are still best friends. After playing with marbles and giving them to their moms as presents, the girls developed their own technique of marbling beads. In less than a month, they started a beaded-necklace company called Marbelous, and got the attention of Brooklyn boutique Diane Kane, who began stocking their necklaces in June 2013. Their collection sold out in less than a month.
Marbelous has been sold at Diane Kane ever since, and now also sells online. One of the collection's standouts is the Gray Matters necklace that gives good Marni vibes for half the price. Plus, a percentage of each purchase goes toward Healing Autism, a nonprofit organization that places seeing-eye dogs in the homes of people with autism. The girls noted, "When we think of friendship we think of being a friend to the world." We couldn't agree more.
Gray Matters Necklace, $34 at Marbelous.