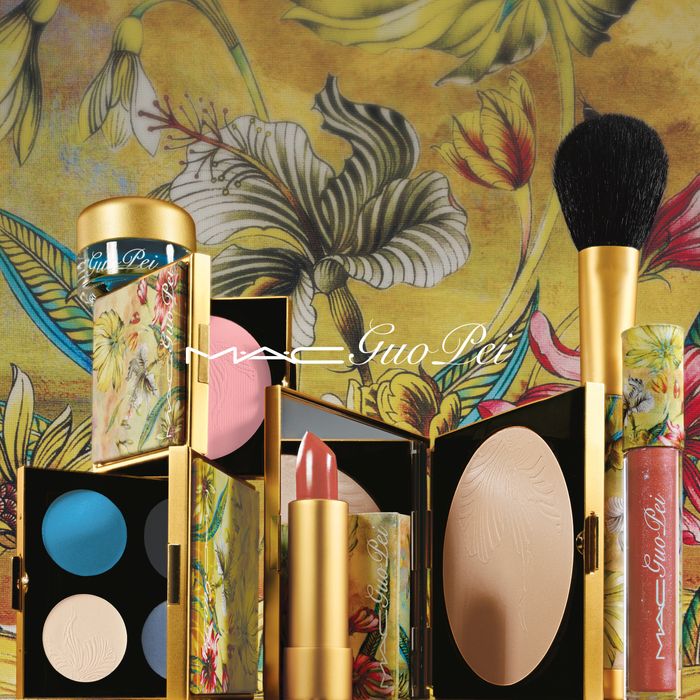 The word happy comes up a lot when Chinese haute couture designer Guo Pei talks about her work, which has been worn by everyone from Zhang Ziyi to actress Li Bingbing. In 2010, the Cut's fashion critic-at-large Cathy Horyn wrote about the designer (who has been called everything from the McQueen to the Chanel of China) for the New York Times, recalling a fashion show that featured 78-year-old model Carmen dell Orifice in a Guo Pei creation so ornate that the train required the assistance of four men. Today, M.A.C Cosmetics announced Pei as its newest collaborator — she's designed a 16-piece collection for the brand that took three years to come to fruition.
Pei spoke to the Cut about how the universe inspired the products, why her haute couture customer base includes both rich and "ordinary" people, and her most memorable customers: a 70-year-old couple. 
The collection includes many pieces of makeup with some unusual colors, like an azure blue eyeshadow and eyeliner. What was the inspiration for the shades you used in the collection?
The choice of the colors gives me a sense of power. I was inspired by the colors of the universe. Blue is a very important color because it is a color of the soul. It's also the base color of the universe and our world. I chose pink and coral for the lip colors because I think they are colors of happiness. I want to affect the people around me with happiness.
The theme for the Met Ball this year is "China Through the Looking Glass." What do you hope that people understand or see about China through your designs?
I hope that people can see China in many different angles. The impression China gives to the world today is a rapidly developing economy, cheap labor, and fast production. But China has 5,000 years of history and is very diverse.
But as to my work, the dresses take many hours — 50,000 hours for a dress called Magnificent Gold and 10,000 for a dress called Blue and Porcelain. The process of the production of the dress, it is a transfer of life itself. It is a work by the people of the past, they have devoted themselves and their time to the work. The focus and the attention paid to this dress will make it remembered by the world — I want is to make them remember. I don't do this for profit. It is my responsibility to let the world know China's tradition and past, and to give the splendor of China a new expression. I hope that people do know China in this way.
Tell me about the two dresses you're exhibiting at the Met.
Magnificent Gold was my design 12 years ago. It is displayed in one room in the Met and it takes up the whole room, just one dress. At the time of designing it, I really did not know the concept of haute couture. It's actually a summary of my design experience and I'm trying to inform using an extreme. It's gold because the color expresses energy and power. It's the color of the sun in midday.
My other dress is called Blue and Porcelain — as you know, china's name comes from China, porcelain. The colors white and blue demonstrate that state of China and Chinese people today. I was one of the earliest fashion designers in China and I witnessed the development of fashion in China over 30 years. I can say that for every change in China's history of fashion, I started it. When I designed that dress, people were surprised that you could design clothes to be an expression of your feelings and your soul. It can be the art, the artistic language.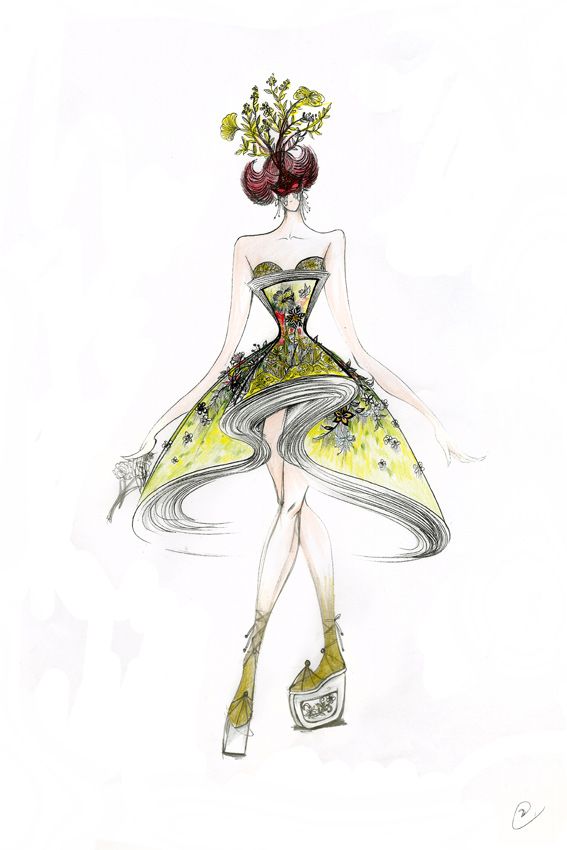 Who has been your most memorable haute couture customer?
The customers I remember most are the ordinary people. I have one client who asked me to design clothes for their baby when she was only 100 days old. The oldest of my clients is 80 to 90 years old.
But 15 years ago, a 70-year-old couple came to me. The husband wanted me to design a qipao for his wife. His wife has been in a wheelchair for 15 years. At the time of the Cultural Revolution, people could not wear qipaos. After the reform, he thought that his wife would look very beautiful in it, but his wife has been sick for a long time. He thought that this was the last chance to realize his and her wish. It's been 17 years now and that couple may no longer be with me, but I will always remember that dress
I see power in the ordinary people and in the desire to own a beautiful dress. It brings them a power and energy. They have the right to own happiness for one time in their life, and my dress is a symbol of that. It is a desire and a pursuit in their lifetime, of a beautiful dress.
With a mix of ordinary and rich customers, does it change how you look at luxury?
I don't like the concept of luxury. In China, luxuries are seen as things you don't really need and it conveys a negative feeling. In my opinion, luxury is products that are beautiful, elegant, and represent the culture. It's born of love. Luxurious products should have an ability to grasp peoples' hearts, and it is love that makes those products survive. I hope that people are buying my dresses because they love them and not because they want to show off.
This interview has been condensed and edited.