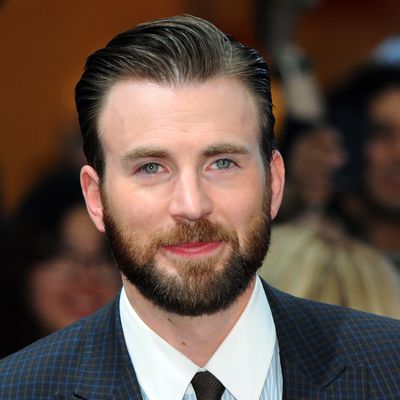 Sorry, which Chris are you again?
Photo: Eamonn McCormack/Getty Images
Chris Evans has a movie to promote. A big-budget movie, in a big action-hero franchise that has many fans. It should be a happy time for Chris Evans! But one thought casts a shadow over his sunny thoughts of press junkets to come: What if they don't know it's me, Chris Evans, and not one of my square-jawed brethren, the many other famous hunks named Chris?? 
He imagines reporters calling out questions: Chris, were you afraid of the dinosaurs while filming Jurassic World? Chris! How do you keep Thor's hair so shiny? Chris! Why'd you shed that single tear at the Oscars, man?
NOT TODAY, Chris Evans tells himself. Today he will find a way to set himself apart from the pack! Today the world will know his singular Chrisness.
So he sat down for an interview with his Avengers co-star Jeremy Renner and proceeded to call the Black Widow — the only female Avenger in his upcoming film — a slut and a whore, while slapping his knee and guffawing like the worst caricature of a misogynistic frat dude.
Thanks, bro! Now we'll always know a Chris Evans Chris from a Chris Pratt Chris — he's the one with significantly fewer female fans.
Update: Chris Evans has issued a statement of apology to Entertainment Weekly, saying: "We answered in a very juvenile and offensive way that rightfully angered some fans. I regret it and sincerely apologize." Avengers co-star Renner also issued a statement of (sort of) apology: "I am sorry that this tasteless joke about a fictional character offended anyone. It was not meant to be serious in any way. Just poking fun during an exhausting and tedious press tour."