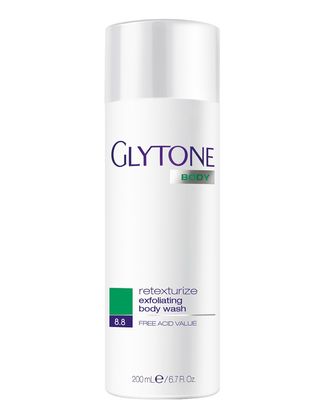 Photo: Courtesy of Glytone
Body acne is the Cersei Lannister of skin maladies, in that it shows up as it pleases, stays around for far too long, and is fundamentally evil. When I noticed a few small bumps around my upper back a month ago, I reached for an exfoliating body cleanser, which, according to experts, is the best bet for fighting body blemishes. The search led me to Glytone's Exfoliating Body Wash, a particularly potent acidic cleanser lauded for its ability to fade dark marks, smooth skin, and, yes, kill body acne.
The body wash is thick and creamy, and smells like freshly laundered sheets. I applied Glytone's wash just like any other body cleanser, with a loofah, and immediately rinsed with water. Though it didn't produce an immediate effect, by the third wash, I noticed that my legs and arms felt smoother, as if I had just shaved them. While severe body blemishes may require a salicylic acid wash, which is another exfoliant that targets inflammation, Glytone's wash contains 8.8 percent glycolic acid to slough away oil and dead skin cells, the two biggest contributors to acne. After a week of use, the blemishes on my back began to deflate and were completely gone by the end of that second week. Glytone's Exfoliating Body Wash isn't particularly fancy or pretty to look at perched in my shower, but at least it looks like it will guarantee bump-free skin for the sleeveless summer days ahead.
Glytone Exfoliating Body Wash, $32 at Dermstore.com.