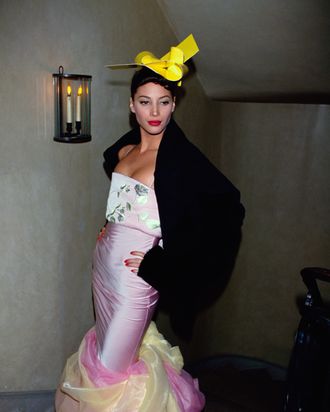 Christy Turlington in John Galliano's 1994-1995 autumn-winter collection
Photo: Laszlo Veres/Corbis
There's a new theme every day on It's Vintage. Read more articles on today's topic: Galliano's São Schlumberger show.
Dana Thomas has spent the past several years immersed in the work of two design legends: John Galliano and Alexander McQueen. For her recent book, Gods and Kings, the former Newsweek and Washington Post reporter (and member of our It's Vintage advisory panel) delved into the designers' fascinating and controversial histories. She talked to us about the significance of this pivotal show in Galliano's career. (She'll be back later this week to talk all things McQueen.)

Many people think of John going to Margiela as his comeback, but he's had multiple ups and downs throughout his career. 
It definitely was his cycle back then — a few collections and then a little bit of a flameout and then a few collections and then another flameout. He burned through backers quite easily because he was an art student and not a business student. He didn't have much of a sense when it came to business, and so his backers would eventually run out of patience and money. In the first ten years of his career he had three different backers and then with the São Schlumberger show he landed his fourth backer. He's long been the comeback kid. That's the way he's always operated.
Do you think he kind of thrives on those ups and downs?
It's a good question. I'm not a shrink, but it's certainly true that when the going got tough, that's when he did his best work.
He did this collection fairly cheaply, primarily using this one fabric. 
Yes, he actually cut it all out of one bolt of fabric, which was this sort of cheap, synthetic, faux-silk crepe. One side was smooth and the other side was rough, so he used both sides to make it look like he had more than he had, to work with the contrast against each other. And then he had a bit of pink satin that he worked in there for touches, just to give a little accent of color. He picked up a bunch of used furs at flea markets and then did things like recut them or had them worn upside-down, to make it look really luxurious without spending much money.
And he got all the top models to walk for free. 
You name them, they were all in that show. But it was a very smart business deal on their side because they had great faith in John. They knew that he was going to make it. And if they helped him, he was going to make it sooner rather than later.
So it was a return on investment for them.
Kate [Moss] landed all those Dior campaigns for years to come, and he [hired] those models and paid their full rate when he was at Dior, and then some. He gave them clothes and they wore them beautifully, and that was some of the best advertising you can get.
I just thought it was interesting in this era of the supermodel, when Linda Evangelista had said, "I don't wake up for less than $10,000 a day," that here she is working for free. 
Yes, because basically those shows that paid her $10,000 a day underwrote her charity work for John Galliano. [Laughs.]
You talk in the book about his visual references and mood boards, collected in these huge scrapbooks. This collection must have involved so much research on his part. He mixed together Japanese influences, Palestinian references, 18th-century silhouettes, 1920s bias cutting ...
He would always bring references back from previous years. The 1920s thing first showed up in his designs in the mid-'80s — and continues to, that's one of his favorite periods — and bias-cut gowns that clung to the body so sensuously became the Galliano signature. And he goes back regularly to Japonisme and chinoiserie, these romantic visions of Japanese and Chinese culture and fashion.
He seems more plugged into fashion history than your average designer, like an encyclopedia of these references.
He's passionate about the history of fashion, and spends a lot of time in libraries doing research on different kinds of history, not necessarily from a technical point of view. McQueen would try to bring back 16th-century tailoring techniques and Galliano didn't even begin to try to understand those, but he did love the line and the mood that these clothes evoked in paintings and in period images and etchings, and he tried to romanticize those eras.
When you were researching the show, was there anything you learned about it that was surprising?
Everyone always talks about the Schlumberger show as if it were a single moment in time, and in fact there were two shows. They redid it because they had such a small space — it only held 200 people and they had 400 that they wanted to invite. Today Chanel does that for a thousand people, but back then it was very unusual for somebody to have the same show twice in a row, just for a second group of people who couldn't fit into the first one.
People still, today, whenever I ask them about the show, their eyes start glistening and twinkling and you can just sort of see them thinking back and saying, "That was the most amazing show I ever went to; that was the most poetic thing I've ever seen in fashion, or the most decadent. People were crying!
That's interesting, because some of these shows that we think of as such milestones weren't considered as such at the time, or people hated them.
Everyone realized they'd just witnessed something very, very special.
Other than Schlumberger, Talley, and Anna Wintour, were there other people who deserve some of the credit, too, for helping bring him back at this point and helping make the show happen?
Yes, the American backers John Bult and Mark Rice, who just wrote this big check and said go for it, in very little time, in a business they didn't know very much about. They had great faith in him, which I thought was very courageous and said a lot about Galliano, that he was able to convince these people to part with their money because they really thought he was worth it. And, of course, Steven Robinson, who was his No. 2 and helped him make it all happen, was deeply important.
Galliano had just come off such a down period, and at one point was selling his clothes on the street.
Yes, they were poor back then in a way that young designers today will never understand.
There was no LVMH prize …
No, there was no LVMH prize, no VH1/Vogue Awards, or any of that, no. And you had to convince everyone to work for free and you were all living on bacon sandwiches. [Laughs.]
But at least in this case, it seemed that he worked well within straitened circumstances, and those limitations ended up enriching the show.
It was like a perfect little sonnet, as opposed to the long stories that he cooked up at Dior when he had more money and more staff and more time. There was something very beautifully simplistic about that show. It was very pure and true.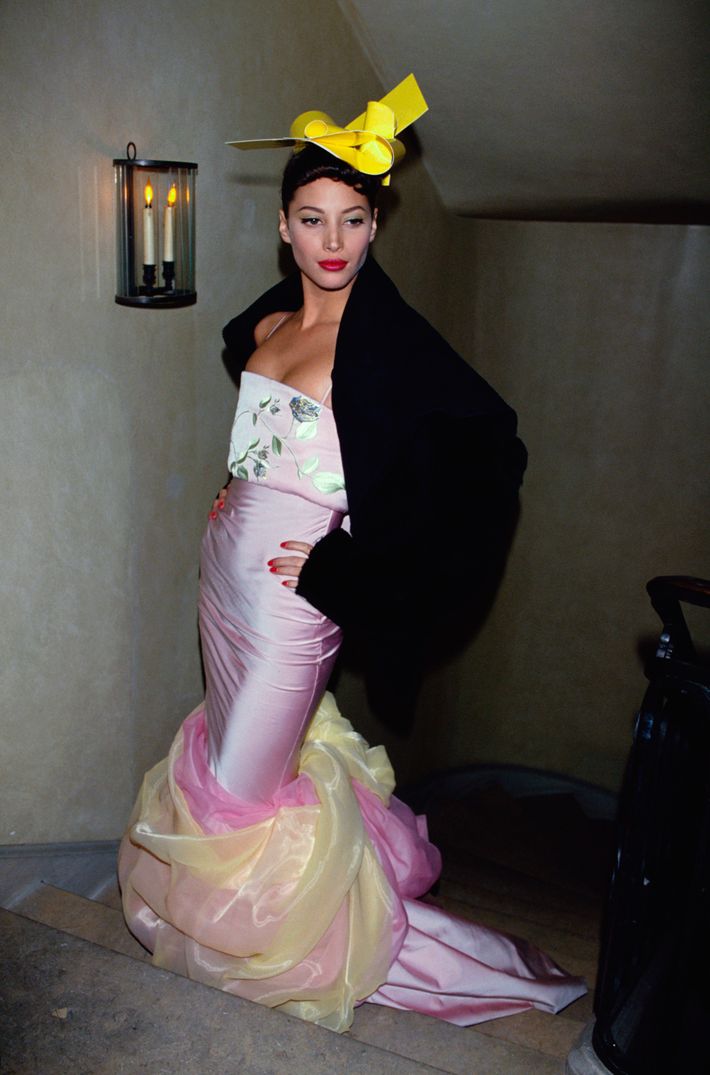 Christy Turlington modeling in the show.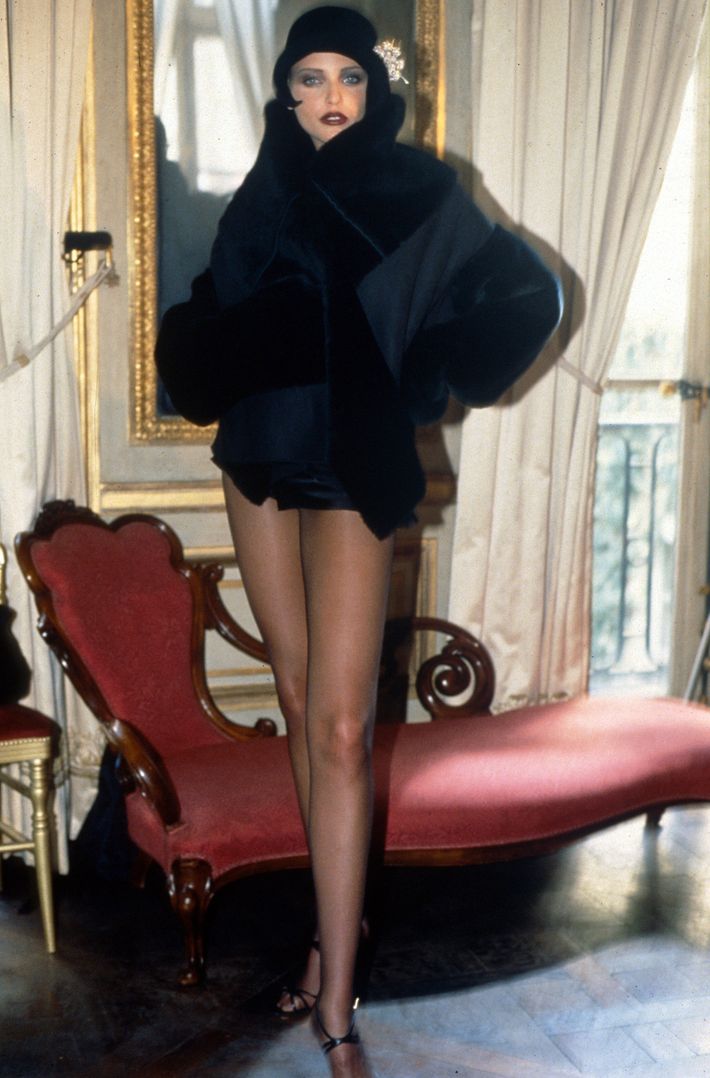 Nadja Auermann modeling in the show.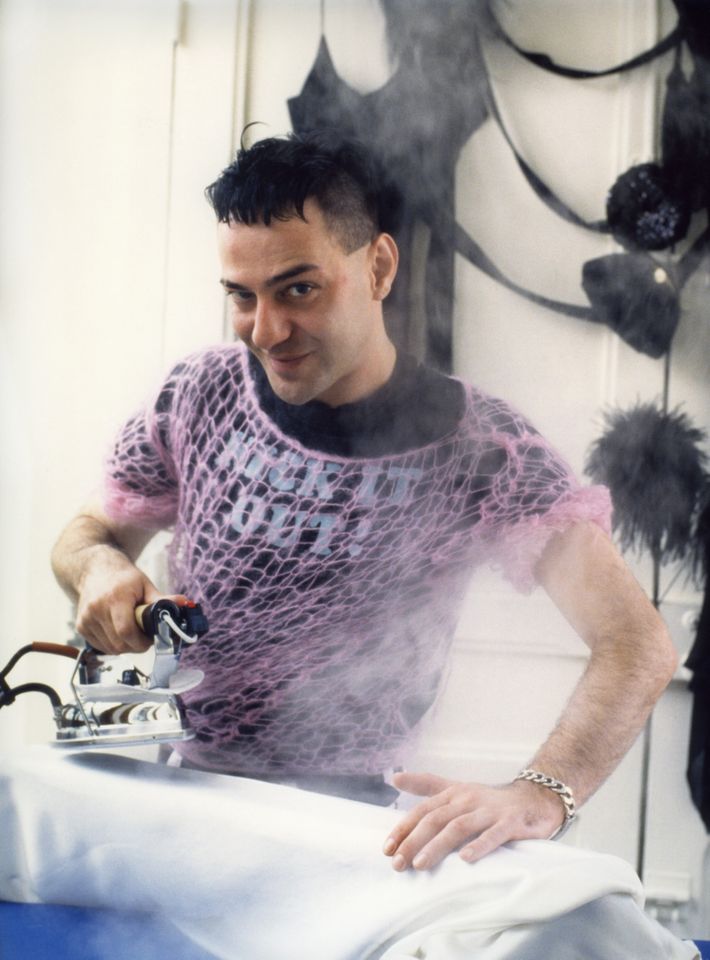 John Galliano ironing in 1994.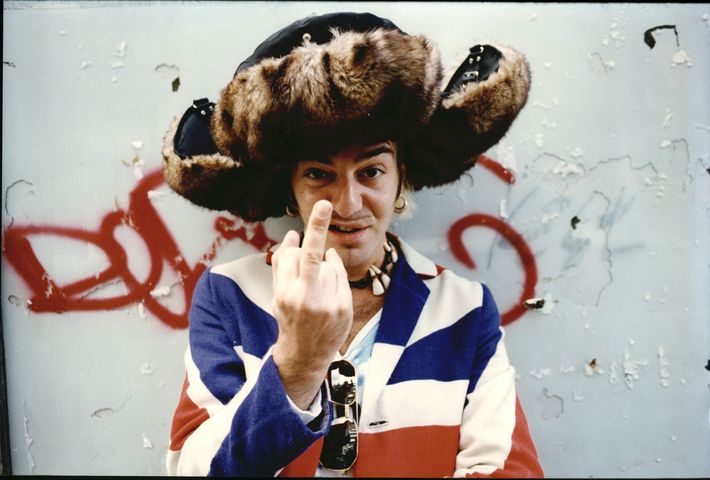 The impish designer flips the bird in 1993.