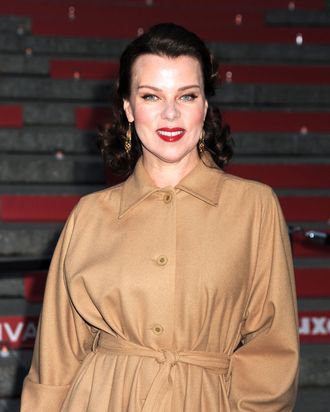 Debi Mazur.
Photo: Photo Image Press/Corbis
Debi Mazar seems perfectly cast in her new TV Land show Younger, not as the 40-year-old divorced suburban mom who pretends to be 26 to reenter the job market (Sutton Foster), nor as the ambitious post-40s boss in a romantic drought from putting her career first (Miriam Shor), but as the best friend with the great Williamsburg loft who's too fabulous to even think about age. Last night, the Cut spotted Mazar through the crowd at Vanity Fair's annual Tribeca Film Festival cocktail party, sponsored by Deluxe, and struck up a chat. Her auburn hair was in movie-star waves, her lips classic red, and her outfit a simple tan trench coat — French, of course — buttoned up to her chin.
She drank red wine exclusively, was nice to the waiters, seems to be best friends with Aida Turturro (who is also simply awesome), and at various points spoke fluent Italian to well-wishers who approached, because her hot husband is a chef from Tuscany. Mazar spoke to The Cut about everything from homemade skin-care remedies to that controversial kiss between Drake and Mazar's good buddy Madonna at Coachella.
I love your new show, Younger. Did you ever lie about your age?
I always upped my age. I lied because I wanted to be older.
Why?
Because when I was 16, I ended up getting a job at the Mudd Club with Steve Mass and I lied and I became the VIP door person doing upstairs. I think it was a joke for Steve Mass to hire a minor to deal with celebrities on his part, but I also wanted to be cool and I thought that upping my age would make me relevant. Meanwhile, now I own my age. You know, IMDb screwed us all as actors, so every year, "Da-da-da-da-da! Debi Mazar, 39!" "40!" "50!" I'm 50.
No, you're not!
I am! I'm 50. And would I want to go back to 20? Ab-so-fucking-lutely! Why not? I had the best time being young, and I'm having a great time being my age.
What do you do with your skin?
I don't do a lot. I do masks all the time and I put lots of grease on. Every kind of mask. I also make my own masks. I make avocado, lemon, olive oil. I use coffee grinds to exfoliate. I use sugar to exfoliate. I'm very much into doing my own thing because that keeps it relevant. And I also keep a little bit of weight on my body because you have to sacrifice your ass for your face. So I don't have any injectables, but I'm not opposed to them. Right now I don't need them. I'm doing okay!
Did you see the Madonna-Drake kiss?
Yes, I did.
What did you think?
Oh my God, it was sexy! You could see she deep-planted a nice hot kiss and they kind of were going at it. He went to grab her hair. I mean, it had to stop and I think they both got — she didn't show it, but I think he got a little bit embarrassed because it was just that hot, heat reaction. I don't think his reaction was anything odd. I think he was just, like, kind of gagging that he got a deep kiss from Madonna.
He said it had something to do with the lipstick she was wearing.
Well, I know Madonna very well, and in performing she might have had some kind of heavier lipstick on, so that could be true. Regardless, that reaction did not read to me "lipstick." That reaction read to me, like, "That was so fucking intense, oh my God." Like, "I should not be onstage right now. Let's go to the bedroom."
Do you and Madonna still talk a lot?
We don't talk a lot. We email more than anything, and text because we're both so busy. We live in a five-mile radius of each other. We try to hang out here and there, but being working professionals working our asses off, we haven't hung out in a while, but we always stay in touch. We let each other know how we're doing. When there's a drama, one of us will show up. But, you know, we have an adult relationship where it's not necessary to hang every second. We've got kids and careers! People are like, "Have you seen Madonna?" I haven't seen anybody! Forget about Madonna! I haven't seen a lot of my friends, you know, because I'm a mom.
Since this party is at a courthouse, it raises the question: When was the last time you were in a courthouse?
I was in a courthouse about a month ago because I had jury duty in Brooklyn.
Did you get selected?
No, what happens in jury duty is I tend to be too opinionated. I went in all excited, happy to do my civil duty, and I went to jury selection and it was like, "Have you ever seen a bar fight? Have you seen this? Have you seen this?" I'm like, "Yes." So, you know, I wasn't a great candidate and I kind of felt like the lawyer was throwing his client under the bus. The lawyer wasn't smart enough. And they were like, "You know what? You need to go home."
Did anyone recognize you?
Oh yes, but that always happens. I mean, everyone had seen my cooking show in that crowd, ironically. Even the judge, who called me out and told me his wife was a fan. It was really an honor.