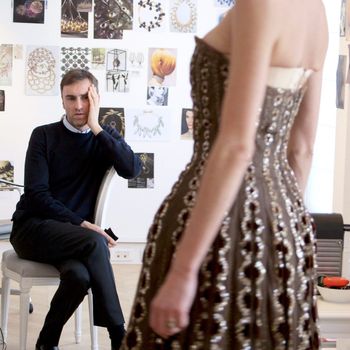 Raf Simons of Dior.
Photo: Courtesy of CIM Productions
The world of haute couture, historically, has not been an easy one to crack. And the famed house of Christian Dior isn't usually quick to let people into its inner circle, either. But filmmaker Frédéric Tcheng managed to tackle both with his new documentary, Dior and I, in theaters today.
Reviews from the fashion set are in, and Tcheng (who also worked on the Valentino and Diana Vreeland documentaries) is being lauded for creating one of the most honest films about the industry in a long time. Tcheng, who still considers himself a fashion outsider (despite having spend countless days trailing Raf Simons and documenting the sacred inner workings of Dior), is particularly curious about what the general public might think of his film. "I love the fashion world, but I know they have a specific point of view," he says. "This part, where everyday people see it, is really nerve-wracking." Read on for Tcheng's thoughts on Raf Simons, the John Galliano scandal, and that infamous room of one million blooms from Simons's first couture show.
What was your first meeting with Raf like?
I was basically behind the camera with the seamstresses waiting for him to enter that first day. We had no in-person interaction before that, other than an exchange through letters.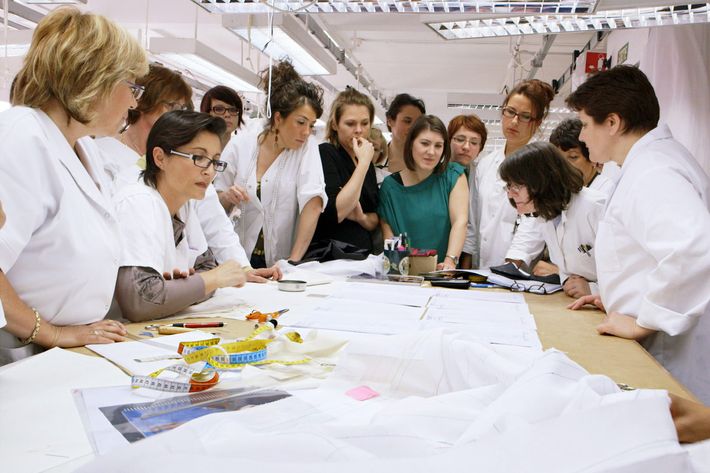 He is a very private person. How did you get him to agree to this?
He said he couldn't say no, but couldn't say yes fully, either. He said he would try it for a week. He is very camera-shy and he was apprehensive. I don't know what it is that changed his mind. I was clear about having an ensemble cast and not just focusing on him. Maybe it was that?
Was there anything that Raf or Dior said was off-limits?
Not really. Later in the process, he did weigh in a little more. I wanted to capture the first meetings and he said he wasn't comfortable with me filming them. I was sad about that, but I realized after, that didn't matter ultimately. I did get his first seamstress meeting on camera, and that was essential.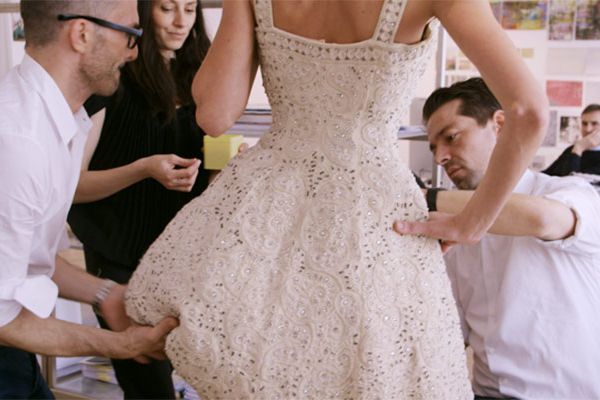 Were the seamstresses a welcoming group? Or, what did you have to do to get them to let you in?
They are very welcoming people. At first, they are making sense of whether you are actually interested in what they are doing. When we showed up day after day, they figured it out. It broke the ice. We got deep with them. It's like an onion, you have to peel the layers off to get to their core.
Raf felt strongly about the room of flowers from the first show. What did that cost Dior? Do you have any details on the numbers? 
I have no idea on the cost, but I know it completely crashed the flower market in Europe. We filmed a lot of the process of them being made, and those scenes didn't make it into the movie (they could be their own separate movie altogether). I am looking into the footage now, actually, we might add it to the extras. You see the florist at work with Raf overseeing the design and they go to the flower market outside of Paris. The timing with that was very complicated — it's a live organism and has to open at the exact right moment. They took them outside to let them open and then put them in the fridge, it was like a science experiment. They had something like 120 people working night and day to mount them on the walls for the show.
You made a very conscious decision not to address the Galliano scandal. Why?
I have a very ambivalent relationship with fashion, I am a bit of an outsider. I don't spend my time in fashion circles. I come with a different point of view, it's one of a filmmaker. The film challenged the preconceived notions of fashion. When people say they don't like the fashion world, they say it's arrogant and superficial. I wanted to show the other side. It's really human and it's not inaccessible. That is what I focused on. Ultimately, you make a film about what is in front of your eyes and your own experience.  This is what I saw.
Also, Raf was very focused on the first ten years of the house, and that really informed the way we structured the film.
Do you have another fashion documentary on the books?
No. I am changing completely and I'm writing a narrative film right now, it has nothing to do with fashion. I am really excited because it is a love story, set in the early '70s. Hoping to finish by the spring/summer.
Would you do another fashion documentary?
Brands are not as interesting, personal stories are interesting. I haven't really met anyone who has changed my mind about fashion. But never say never, right? Tomorrow, I could meet someone who might change my mind completely.