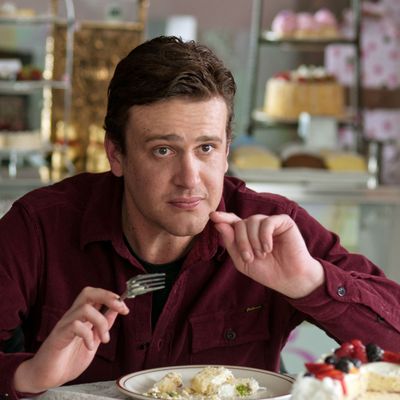 Photo: Universal/Courtesy Everett Collection
Now that we have the proper terminology for the soft, flabby body of frat boys past and present, we want to help men (or women, we're equal opportunists) achieve their Dadbod ideal.
The Dadbod Diet is mercifully easy: Leave the lean meats, leafy greens, and handfuls of almonds to Scott Eastwood. Each meal should have some element of the following: corn syrup, batter, melted cheese, and beer. Make sure to add the occasional super serving of synthetic protein to help develop the solid muscle beneath your flab layer.
Below, a three-day sample diet.
—-
Day 1:
Breakfast: Orange Gatorade and a Clif Bar
Snack: Protein powder mixed into JIF, smeared on a single slice of white bread
Lunch: Two Trader Joe's frozen burritos and a Wendy's Frosty (no fries for dipping)
Snack: Two-thirds of a bag of Cool Ranch Doritos, two Coors beers
Dinner: Six slices of a large Papa John's pepperoni pizza dipped in garlic-butter sauce and three Budweisers
—-

Day 2:  Workout day, heavy on the protein to maximize time effect of playing a pick-up lax game with the old brahs.
Breakfast: Bacon, egg, and cheese sandwich with extra American cheese, coffee, and orange Gatorade
Snack: Chocolate Muscle Milk
Lunch: Buffalo wings and mozzarella sticks from Brother Jimmy's, a pitcher of Coors beer
Snack: Partially defrosted Trader Joe's frozen burrito
Dinner:  Chipotle Burrito Bowl with double steak, sour cream, corn, pico, cheese, guacamole, and a large Coke
—-
Day 3:
Breakfast: Protein shake made with water, ice, and P90X vanilla protein powder, a handful of gummy multivitamins
Snack: A six-pack of Budweiser (potential sub, a 12-pack of Miller Lite)
Lunch: Chop't Steakhouse Salad with Texranch dressing
Snack: UTZ Ruffles potato chips with an entire container of French-onion dip
Dinner:  All the items on Taco Bell's Cantina Power Menu (High Protein Meets Big Flavor) with two additional Doritos Locos tacos, an order of cinnamon twists, and a large Dew
—
Other Examples of Acceptable Food:
• 7-Eleven Taquitos
• Pizza Hut stuffed-crust pizza with sausage and pepperoni
• Buffalo Wild Wings buffalo wings (do not consume the celery)
• Italian cold-cut hoagies with the works
• Light beers (sparingly, on days when you're being "good")
Acceptable condiments: Ranch dressing (on everything), sweet-and-sour sauce, powdered alcohol
Please consult a nutritionist or physician before starting any new diet plan, specifically this one.