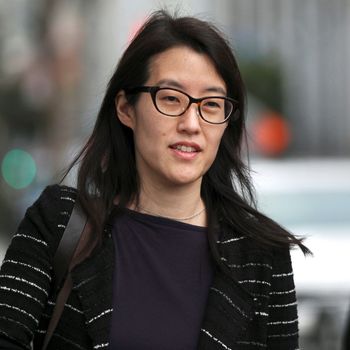 In her first interview after a three-year-long ordeal, Ellen Pao spoke to The Wall Street Journal about losing her case against the venture-capital firm Kleiner Perkins Caufield and Byers. "At the end of the day I look at it, and I look at the conversations, and I'm glad I did it. But it was hard," she said, of a case that's garnered the rapt attention of Silicon Valley and turned her into a symbol of the fight against gender discrimination. Calling herself a "very private person by nature," Pao said she found solace in connecting with the many women who confided in her about their own experiences.
When the case first started, she'd get approached by a woman at least once a week. As it continued, she found herself stopped at least a few times daily, and by its end, women were opening up to her in the street, using shared elevator rides to start conversations, and sending copious messages on LinkedIn. "There were people who shared stories that they hadn't told other people, that they bottled up for many years," Pao said. She also noted that she's found herself involved in a larger conversation about workplace discrimination beyond Silicon Valley.
Of her own experience in the tech industry, Pao said, "You have this needle that you have to thread, and sometimes it feels like there's no hole in the needle." The women she's spoken to "feel like there's no way to win. They can't be aggressive and get this opportunity without being treated like they've done something wrong."
Pao received hate mail and immense criticism, but she says the overwhelming response has been positive. When women in the tech industry heard their male co-workers talking about Pao's loss, they took out a newspaper ad that read "Thanks, Ellen." Men have also approached her to say that her case, and the surrounding conversation, made them more aware of their own offices' shortcomings.
Pao is now working as the interim CEO of Reddit, and it's a job she hopes will become permanent. At Reddit, she's already making strides in changing the corporate culture. She did away with salary negotiations in the hiring process because numerous studies show that women don't do as well as men. She brought in a diversity consultant and is working to build a multiracial, gender-balanced team.
She's also enacted a ban on revenge porn on the site and added more community moderators to keep an eye out for misogynistic content. Before returning to her desk, she paused to consider what advice she'd give a young woman dealing with some of the problems she faced at Kleiner. "I would tell her to have confidence in herself," Ms. Pao said, "to know that what she's doing is important, and to always remember not to let other people change her view of herself."