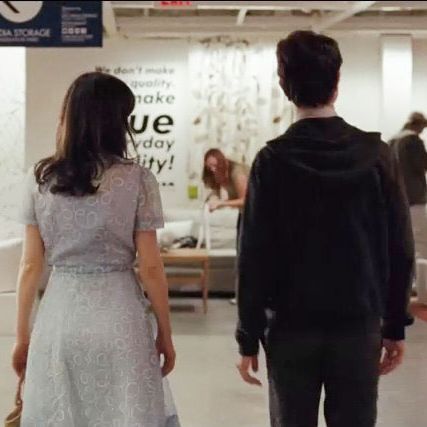 A year or so before my boyfriend and I started dating, I moved from Manhattan to Brooklyn and asked him as a friend to come over and help me build my IKEA bed frame. It wasn't necessarily a project I needed help with — I'd built the Expedit bookshelf entirely alone, enjoying the challenge — but it was reasonable to assume I might need a hand, and of course building a bed together had its own symbolism. After one failed attempt (something was backward or upside down), we were able to finish the whole project without any bruised egos or perceptible tension.
Yet not all experiences of flat-packed furniture are so happy. Ramani Durvasula, a clinical psychologist in Santa Monica, California, has noticed so many of her patients cite IKEA as the source of an argument, she's begun to use the Swedish furniture megastore as a tool for communication exercises. "The store literally becomes a map of a relationship nightmare," she tells Hilary Potkewitz, at the The Wall Street Journal. 
Walking through the kitchens brings up touchy subjects, like who does most of the cooking. Then you get to the children's section, which opens up another set of issues. And that's before you've even tried assembling anything.
With its 367 stores across the world offering affordable furniture in neither-here-nor-there styles, IKEA appeals to young couples everywhere. For some, a visit to its prefab family rooms is the beginning of a long life together. For others, the death knell to a doomed coupling. 
"Furniture assembly often causes more friction than the shopping experience," Ms. Potkewitz writes, citing recent data from consumer research firm CivicScience. That's where real personality clashes can occur: Who reads the instructions thoroughly before beginning, who just wings it, and how those opposing styles work together, can all be strong indicators of compatibility. 
"Dr. Durvasula says constructing the small Nornäs coffee table is fairly undemanding. But a massive wall unit like the Liatorp? She calls that the Divorcemaker," writes Ms. Potkewitz. 
For what it's worth, this past New Year's Eve we camped out upstate, in freezing temperatures. I immediately claimed the tent as my solo project, and built it in under ten minutes, while my boyfriend handled setting up the campfire. Sometimes, it's just about delegating.