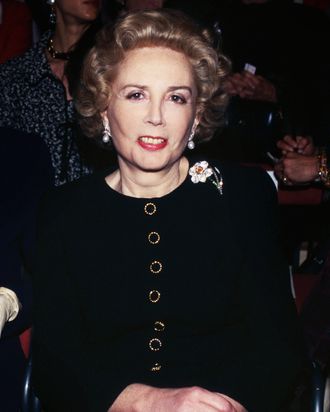 Schlumberger in 1994.
Photo: Laszlo Veres/Corbis
There's a new theme every day on It's Vintage. Read more articles on today's topic: Galliano's São Schlumberger show.
For John Galliano, the Portuguese and German socialite São Schlumberger was a fashion de' Medici. She was born Maria da Diniz Concerçao in Portugal, and after marrying oil tycoon Pierre Schlumberger, she threw herself into collecting — and supporting — art and fashion. She had her portrait painted by Dalí and Warhol — the former designed her an elaborate pearl-and-emerald necklace she wore often. (Baubles were her signature: In 1987, she told W, "There is nothing more annoying than seeing a woman with the means to buy anything she wants who always wears the same piece of jewelry.") A force on the Paris social scene, she threw everything from black-tie balls to a so-called "hot-pants party" — now there's a trendlet ripe for revival. And though she was on the highest rung of the social ladder, she supported young artists and creators, notably a young Robert Wilson.
As André Leon Talley recalled for us this morning, he was friendly with Schlumberger and helped secure her 17th-century hotel particulier — a townhouse with a walled courtyard entrance — as the venue for Galliano's fall 1994 show. While she had vacated the house in favor of a new apartment on the Right Bank, the water and electricity were still running, and Galliano — abetted by Talley, Amanda Harlech, and Steven Robinson — set about turning it into the Romantic setting of their dreams. Perhaps another benefactor might have stepped in, but it wouldn't have been the same: Thanks to Schlumberger's generosity, the shoestring-budget production got an injection of pure luxury.