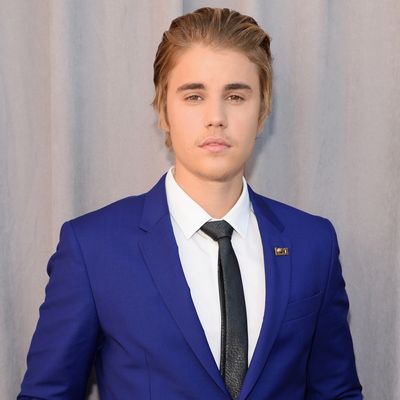 Promgoer Justin Bieber.
Photo: Kevin Mazur/Getty Images
Maybe all those sick burns from the Bieber Roast were just too much. Maybe Martha Stewart ragged him a little too hard. Maybe coming face-to-face with the post-adolescent experience of a being "Justin Bieber" left him feeling sort of blue, bruised, and insecure.  

That might explain why he put on his best fedora and crashed the Chatsworth Charter High School prom on Saturday.  Evidenced here by multiple tweets and vines from the ecstatic attendees of #Chatsworthprom2k15:
Prom: one of the only social gatherings where his impromptu presence still elicits hysterical screams of joy. Prom: his version of the Cheers bar, a place where everybody knows his name. Where he won Prom King just by walking through the door. Where he isn't Justin Bieber, recently roasted butt of all the jokes, but Justin Bieber, King of the Teens!

Prom: a home at last! And so he drank deeply from the sweet, sweet waters of this compliment pool until his thirst was quenched.