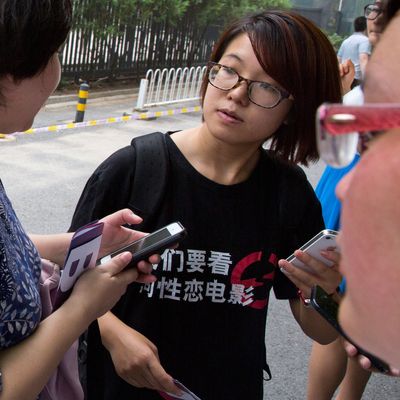 Wei Tingting.
Photo: Ng Han Guan/Corbis
A group of five feminist activists in China — Wang Man, Wei Tingting, Zheng Churan, Li Tingting, and Wu Rongrong — has been staging bold, media-savvy performance pieces intended to critique gender inequality and push what's been called the country's "academically inclined women's rights movement" into a more public space.
They've called attention to domestic violence by marching in red-paint-splattered wedding dresses and chanting "Yes to love, no to violence." They've shaved their heads to protest inequality in higher education and "occupied" public toilets to protest the lack of women's rooms. The guerrilla theater they've employed is almost unheard of in China, and it's garnered both public support and governmental interference.
Now, though, with Beijing on the cusp of adopting its first domestic-violence policy, the five have been detained.
Ironically, their detention came on the eve of International Women's Day. They'd planned to use the day for a public awareness campaign about sexual harassment on public transportation. Lawyers for the women say their clients are constantly interrogated; one suffered a mild heart attack in custody and another is ailing after being denied her medication. A number of young feminist activists have gone into hiding after the crackdown.
"Many people find it mind-boggling that the government of the second-largest economy and the world's largest standing army is afraid of a group of women trying to draw attention to sexual harassment," Sophie Richardson, the China director at Human Rights Watch, told the New York Times. "The combination of power and paranoia on display is very telling."
Despite an attempt to keep the detentions quiet, word spread through college campuses and over 1,000 people signed a petition demanding the women's release, a move that is both brave and risky. Feminists worldwide have attempted to put pressure on Chinese authorities by launching a #FreeTheFive media campaign.
On April 13, the fate of the five will be revealed as their case reaches the legal limit for detention without a formal arrest. Within China's legal system, a formal arrest almost always results in a conviction.