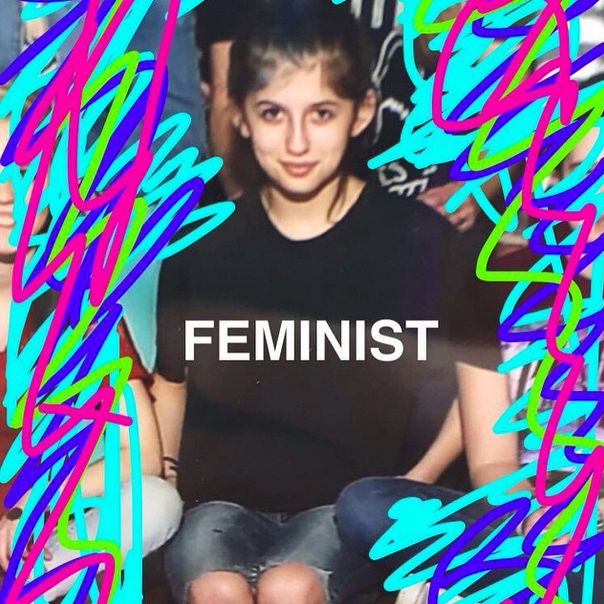 Photo: idiotsophie/Instagram
A middle-school student at Clermont Northeastern Middle School in Ohio is fighting back after a T-shirt she wore for a class photo was censored. The offending word? Feminist.
Principal Kendra Young chose to black out the word from student Sophie's shirt after being alerted to it by the school's alarmist photographer. "Some people might find it offensive," Young said.
MSNBC reports that after discovering the doctoring of her image, Sophie took to Instagram to ask classmates to join her in a protest last Friday:
EVERYONE PARTICIPATING WILL BE WEARING A SHIRT WITH A PHRASE LIKE "I DESERVE FREEDOM OF EXPRESSION" OR "FEMINISM ISN'T OFFENSIVE" OR ANYTHING THAT YOU BELIEVE FITS! PLEASE MAKE A SHIRT AND JOIN US AND HELP TAKE CARE OF THIS ISSUE.
After enough local-media scrutiny, Ms. Young reached out to Sophie's mother with an apology. She also apologized to Sophie herself, asking, "What do you want from this?"
Sophie, official new feminist teen idol, reportedly replied:
I want everyone to realize that we need feminism … I want you to have someone come into the school and educate everyone about feminism. I want us to go to the news station together and show the people that we are working together to make this school and our community a better place for everyone. I don't think that's too much to ask.
We'll be eager to see whether the school does indeed "hold larger discussions with students regarding feminism."