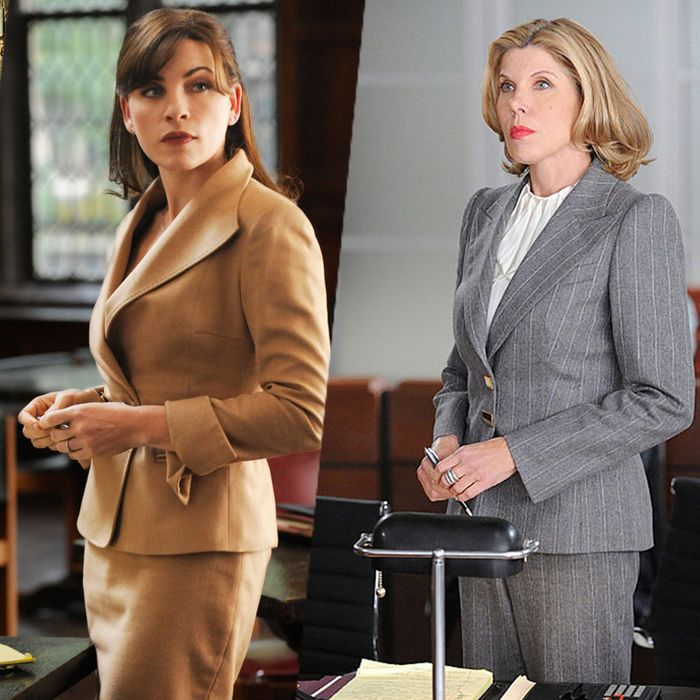 Kerry Washington on Scandal; Alicia Florrick and Christine Baranski on The Good Wife
Photo: Craig Sjodin/ Disney ABC Television Group; CBS Photo Archive/ Getty Images; Courtesy of CBS
When it comes to officewear, it's hard to compete with the ladies of Chicago's most dramatic law firm, Florrick, Agos and Lockhart, the setting for The Good Wife. Who else has Alicia Florrick's perfectly snug blazers? Diane Lockhart's signature chunky chain necklaces? Kalinda Sharma's soft leather knee-high boots? No woolly jacket bulges on this crew, no strong strides broken by a wobbly heel. The control these women exert in blouses and tailored jackets is matched with their cool smarts. And no one ever, ever wears yoga pants to work.
These are powerful women whose style communicates authority in a way that is personal, and feminine. And yet they do, in fact, have stiff competition: Think of Scandal, where Olivia Pope, played by Kerry Washington, works neutral pantsuits and luscious cream trench coats; or of Veep, where Selina Myers (Julia Louis-Dreyfuss) manages to communicate her character's buffoonish, craven political nature while encased in fitted sheaths. There is also Robin Wright's icy First Lady on House of Cards, whose precise, measured words are matched perfectly with sleek button-downs and tight sleeveless dresses.
British imports like The Honourable Woman starring Maggie Gyllenhaal and The Fall with Gillian Anderson are perhaps a bit more high fashion — with lots of flowing wide-legged pants and European labels — than their American counterparts. Viola Davis's law professor on How to Get Away With Murder also dominates in heels and fitted suits in both the courtroom and in the classroom. Even Cookie (played by Taraji P. Henson) in Empire has a version of a feminine power suit, albeit one in fur and animal print, that shares a certain lineage with The Good Wife. When the show's costume designer Rita McGee was asked about Cookie's fashion inspirations, she listed Diana Ross and mob wives — but also Arianna Huffington and Hillary Clinton.
How iconic is the look? Well, at this year's State of the Union, Michelle Obama wore a fitted suit by Michael Kors, one that observant viewers almost instantly identified on Twitter as first seen on The Good Wife a few seasons ago. On the streets, athleisure might still rule, but on TV everyone has been, in the words of the show's chief costume designer, Daniel Lawson, "Good Wife-d" — which is to say crafted into a powerful, more professional versions of themselves.
The late '80s and mid-'90s, of course, were the golden age of the female power suit. Those of us who grew up during that era remember the shoulder pads and tiny ties in '80s movies like Baby Boom, the mannish blazers in Working Girl — actually, all of Working Girl, since most of the movie is spent exploring Melanie Griffith's transition from secretary (huge bangs, Long Island accent, trashy short skirts) into well-paid boss (full suits, more modest dresses, trench coats). Then, in the '90s, Murphy Brown raised the shoulder-pad bar even higher: Corky Sherwood, the ditzy weather girl, might wear fitted suits, but Candice Bergen's Murphy kept herself loose and covered in blazers with rolled sleeves.
The style has evolved since then. Unlike, say, the "office lady" look of '90s shows like Ally McBeal or the soap-opera world of Melrose Place, it's less cartoonishly sexual now (everyone wears shirts underneath their blazers, for instance) but still definitely feminine. There are no Designing Women–style billowing blazers. The new look is sleek, controlled, boss-y: body-conscious suits with pants or skirts, form-fitting (but not too tight) dresses. Neutral colors seem to dominate but bold, bright looks get sprinkled in (especially for the politicos). Heels and boots that are high but not too come-hither, and simple accessories that enhance rather than distract from the overall look (zero bling).
With women on top of so many TV shows, it makes sense that a new visual shorthand for the female boss would emerge. But it's not that all of these characters share the same personality or that their style is trying to communicate the same thing. Far from it: Olivia Pope's white wide-leg pantsuits would look totally out of place on Robin Wright's sleek profile, for instance. But what unites the new style is that all of these characters' dramas are based in professional worlds that bleed out into the personal, instead of vice versa. Their job is central to who they are, so their professional uniform becomes very personal. The jeans Alicia Florrick wears at home in The Good Wife are no more central to her identity than the work outfits. Her personal style (and physical body) are expressed in both, rather than hidden in a boxy, mannish work uniform.
"When I first read [The Good Wife] script, I knew right away that it was a story about three very strong women," says Daniel Lawson, The Good Wife's costume designer, who previously worked on Lipstick Jungle in the early 2000s. "And I just … I did not want them to look like men." Practically, this meant making a few tweaks from the pilot episode, which Lawson did not work on. Kalinda wore jeans; Lawson put her in skirts. Diane's flannel pantsuit morphed into a "Madison Avenue–looking" style. Alicia, whom Lawson described as "immature in her business look," came to have "one foot in the classic, one foot in the modern" in her jackets and skirts. When Lawson showed an early version of his mood board to a CBS executive, she expressed approval, saying, "I'm so excited to see these women looking like women." Lawson's response was total relief — "Oh god."
For Scandal costume designer Lyn Paolo, defining female power was also crucial. It was a big part of her work on The West Wing, where she dressed fictional White House press secretary C. J. Cregg ("the highest-ranking woman") played by Allison Janney in Calvin Klein and Armani. "At the time I chose much more masculine silhouettes for C. J.," Paolo writes in an email, noting that Janney's height made "a longer drape" possible. Olivia Pope is an altogether different creature — in her world, there's a male president who basically owes his job to her. "In my very first fitting with Kerry Washington, we agreed together that Olivia is a Pants Person," Paolo writes. "Olivia literally 'wears the pants.'"
The metaphor holds even when the pants are actually a skirt. On one memorable episode last season on The Good Wife, Alicia wanted to mess with the head of her former boss and paramour. She slipped into court in the same outfit that she wore on their first night together. It wasn't a sexy negligee or a daring party dress — no, Alicia reduced him to stammering nonsense with a cream-colored blazer and straight skirt.
To be sure, there is a limited pool of professional women on display here — the show's lead characters are wealthy, straight, in their 30s and 40s, thin and inhabit wood-paneled law offices and political corridors (for the most part). When you look like, say, Julianna Margulies or Viola Davis, it's not hard to sell a tight-fitting pencil skirt. But it's deeply refreshing to see female power live outside the male gaze. The TV revival of the power suit comes at a time when casual dress is the norm in most offices, with the start-up bro hoodie-and-sneakers look forcing grown men to look like teenagers. No matter how that aesthetic is specifically worn by the Claires, Olivias, and Alicias, the message is clear: These are adults. They've made a world, to paraphrase Broadcast News, where being female and being a boss is a turn-on.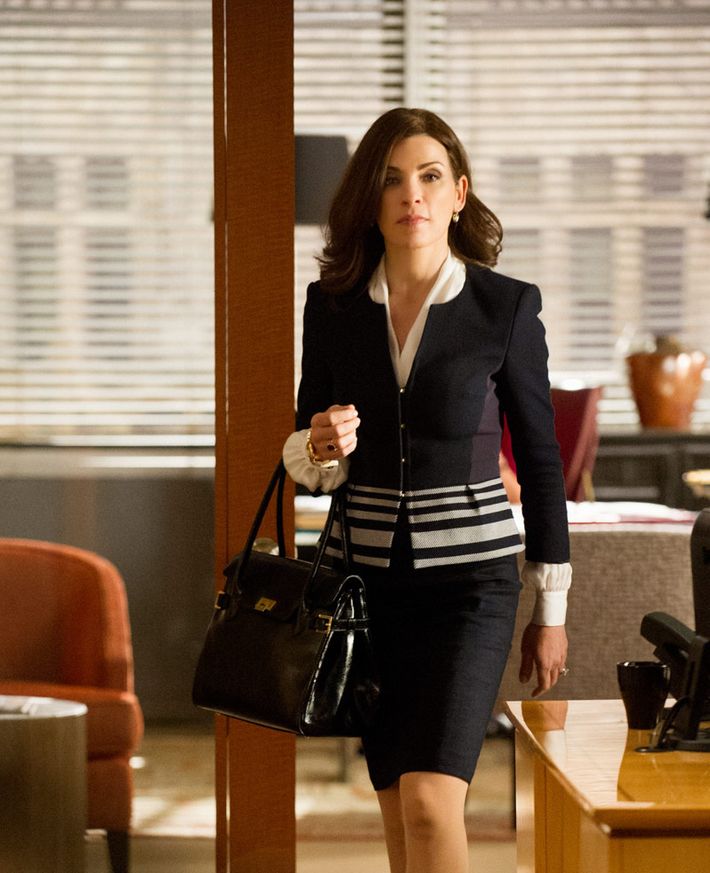 Julianna Margulies as Alicia Florrick on The Good Wife
Even the First Lady took a page from Alicia Florrick's feminine courtoom looks, which tend toward rich colors and muted patterns, like this striped jacket.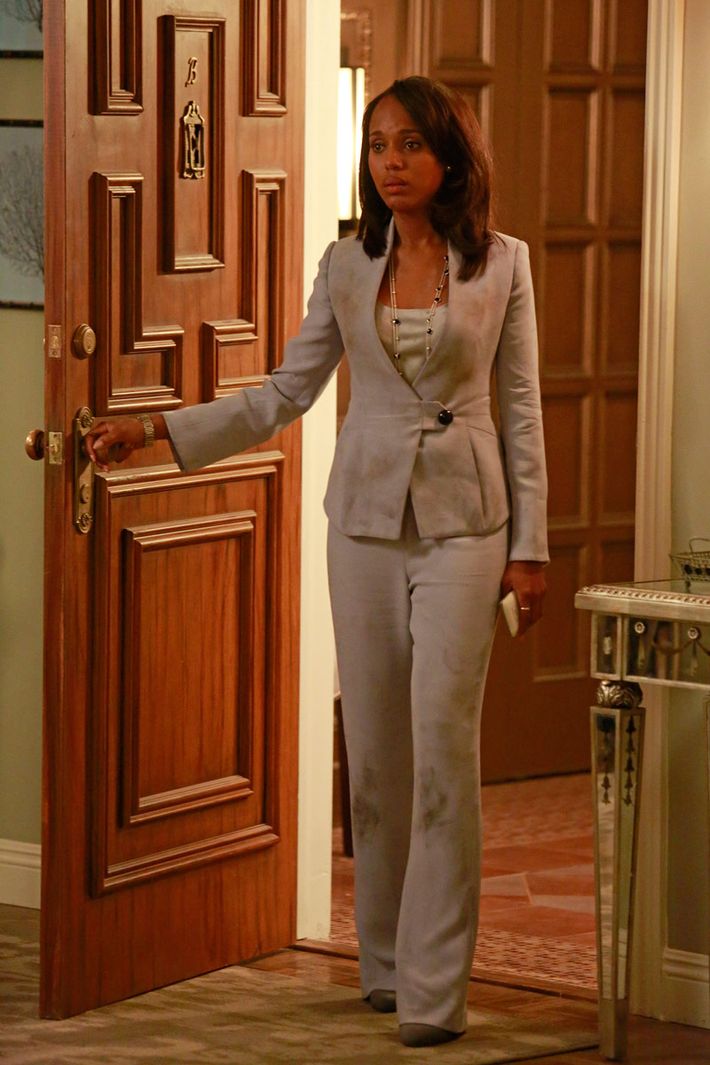 Kerry Washington as Olivia Pope on Scandal
Her all-white-suit habit and her all-red-wine habit may not mesh terribly well, but Olivia's neutral palette helps soften her otherwise bristly character.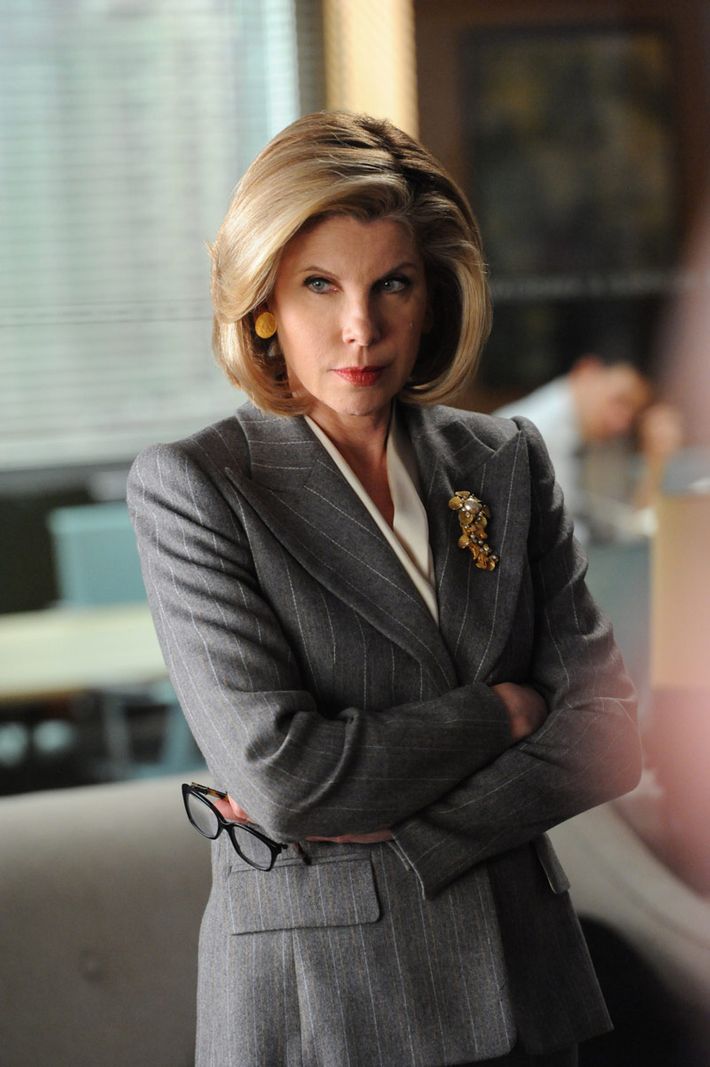 Christine Baranski as Diane Lockhart on The Good Wife
Diane's statement brooches and jewelry have become fan favorites, enlivening her subdued corporate suits.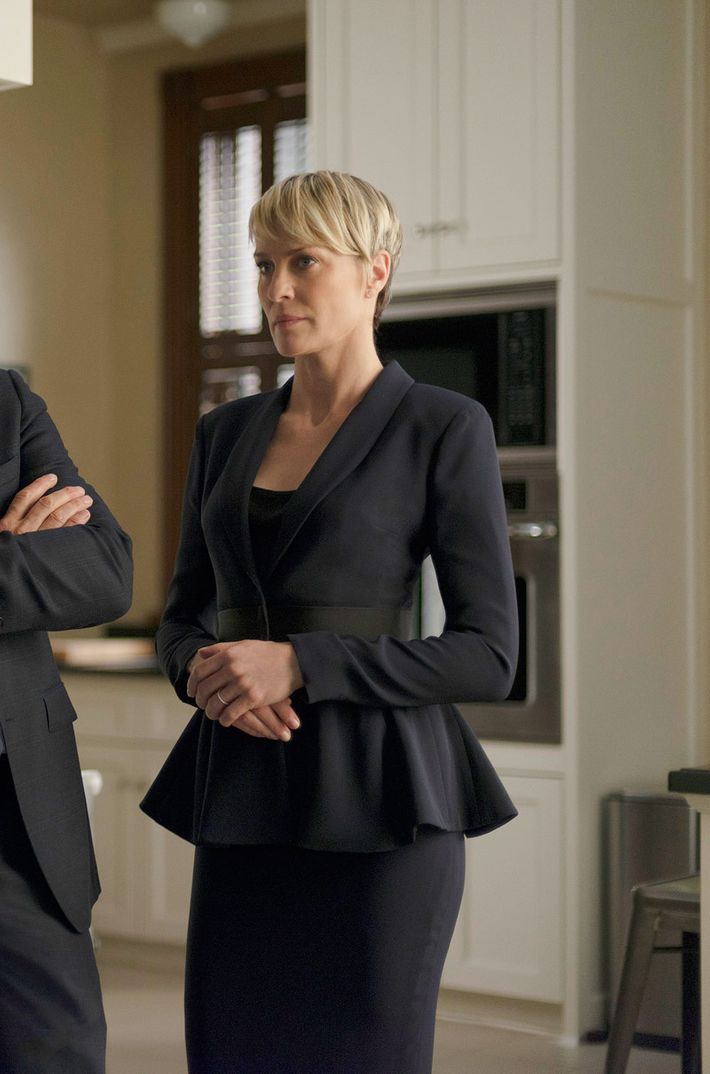 Robin Wright as Claire Underwood on House of Cards
A complete 180 from the dowdy D.C. norm, Claire is always seen in minimalist pieces with eye-catching details, like this fluted peplum blazer.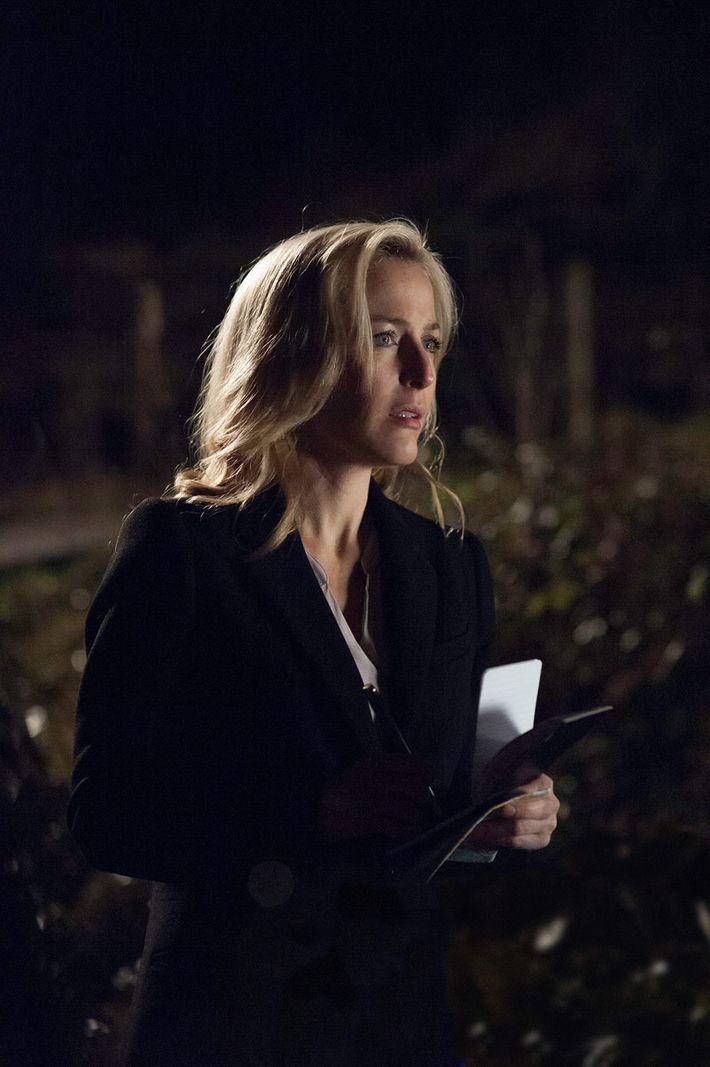 Gillian Anderson as Stella Gibson on The Fall
Even as Anderson's character stalks a serial killer, she remains dressed to the nines in flowing pantsuits.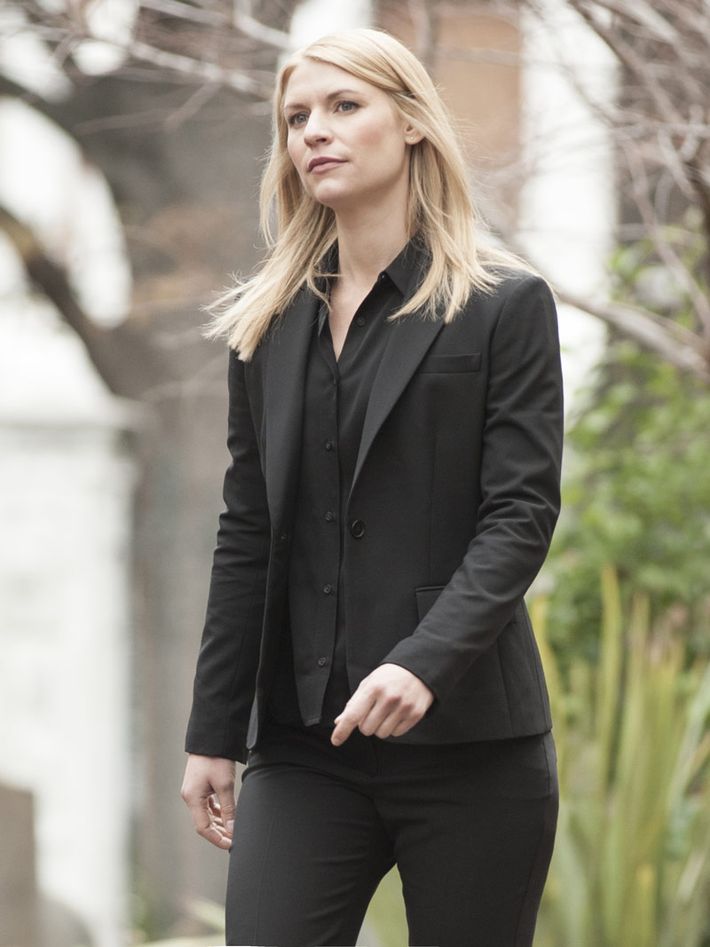 Claire Danes as Carrie Mathison on Homeland
Hyperneurotic Carrie, at least when it comes to her wardrobe, favors all things calm.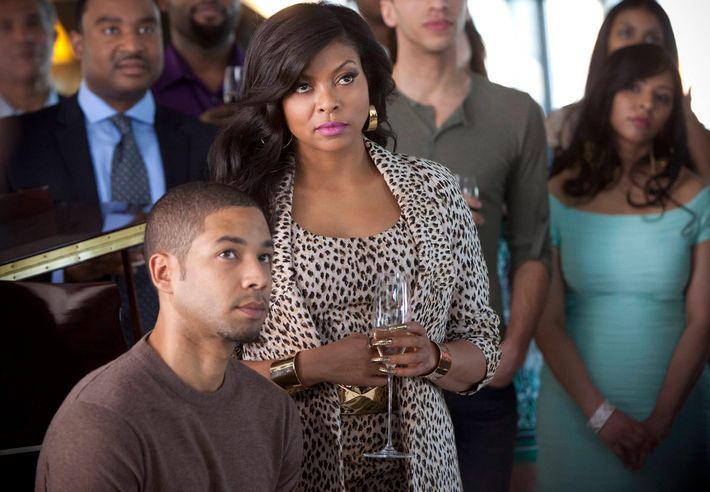 Taraji P. Henson as Cookie Lyon on Empire
Though not exactly HR-friendly, Cookie's animal-print office attire still sends the "I'm in charge" message.