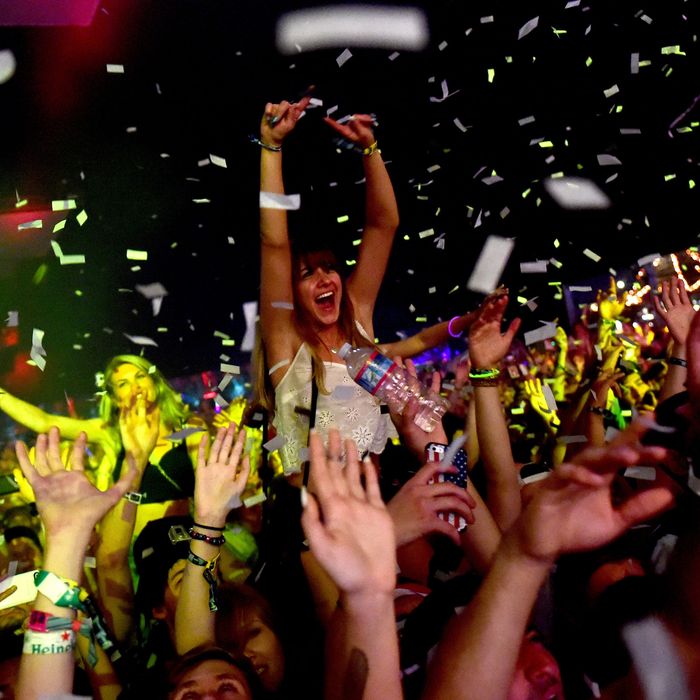 Photo: Jason Kempin/Getty Images
Last weekend, my Instagram feed was mostly selfies of young Coachellagoers posing in front of palm trees, and there was not one inch of my body that felt any FOMO. That nagging Fear of Missing Out, which used to plague me — when I'd be sitting at home eating Carr's Table Water Crackers with almond butter and jelly and watching House Hunters International, and I'd scroll through my phone and discover that everyone except me was at South by Southwest, dancing on a table with Kanye West — has morphed into something else entirely: If I were teleported to Indio, California, right now and plopped in the middle of the David Guetta set at the safari tent, I think I would run as fast as my fashion Birkenstocks could take me.
I believe that I have developed the opposite of FOMO, in fact: I have a case of FOGO, or Fear of Going Out. Okay, well not literally a fear of going out. I still love a party. Always have and always will. But I have an active non-desire to attend the mass-Instagrammed events that clog up all my social-media feeds on several-week-long intervals throughout the year. And I am not the only one. Last year, around this time of year, Lena Dunham tweeted: "Whatever the opposite of FOMO is, that's what I have about Coachella." Someone I know recently tweeted: "Not going to SXSW is the new getting off Facebook."
Part of the problem is that all these things have become such things. South by Southwest, the last time I went in 2012, felt like one big "meet you by the Doritos stage near the Lacoste house after I stop by the Smart Water lounge." It's concerts and panels wrapped in a networking event wrapped in a marketing blitzkrieg wrapped in a neon-pink VIP bracelet, with good tacos. Coachella, once simply a joyous, massive music festival in the desert, this year collaborated with H&M and SoulCycle on clothing lines. Tara Reid was there. #No-chella, which got a write-up in Wednesday's New York Times, is the hashtag that refers to the invite-only big-brand-sponsored house parties that have infiltrated the festival. Apparently, the hottest Saturday-night party was at a mansion in Rancho Mirage and hosted by McDonald's, Chevrolet, and Bootsy Bellows.
This was not the case five Coachellas ago, when Beyoncé, wearing a pair of denim short-shorts, a loose white T-shirt, and a porkpie hat, caused the dust-caked crowds at Coachella to almost collectively pass out when she made a surprise appearance onstage, and joined Jay Z for a duet of "Forever Young." And there I was, probably at a very nice gathering in Brooklyn, with my iPhone 3GS, following it all on Twitter, wishing that I could be swaying along, waving my lighter and wearing a bikini top as a shirt. FOMO officially entered our lexicon almost exactly one year later, in April of 2011, when tech reporter Jenna Wortham gave it the trend-piece treatment in the New York Times. It's "the blend of anxiety, inadequacy and irritation that can flare up while skimming social media like Facebook, Twitter, Foursquare and Instagram," she explained. Back then, FOMO was real and FOMO was relentless.
To be fair, I am now 32. I used to go out a lot, and now I go out a lot less. I don't like EDM. But FOGO also afflicts those younger than me. Take 22-year-old Gabby Bess, a writer for Vice, who used to find herself out on the town most nights, but now does not. Suddenly, she says, "It didn't really seem all that interesting or pressing to attend another reading or n+1 party, or whatever. Going to parties is a type of work. I already work all day and I don't really want my social life to feel like work also." And, she adds: "There's just so much good TV to binge-watch right now."
In search of a good answer to why some of us seem to be more interested in Netflix's offerings than what's on the main stage at Coachella, I called up Wortham, who agreed that the age of FOMO is over — but not necessarily because these events have gotten less fun. "This past South by Southwest," she told me, her sixth or seventh she thinks, was "the best one yet." Rather, she says, "Now that technology is coming out of its adolescent period, we've gotten better at being able to resist the hold it has on us. People, I think, know that clicking on the #SXSW hashtag on a Friday night is going to make them feel bad, so they won't do it." (This claim is supported by a whole 'nother Times trend piece from last month on "Unplugging Without FOMO.") "I just don't look at Instagram at all if I'm staying in," says Wortham. For another kind of power-Instagrammer, showing that they spent six hours of their Friday night at home with a small group, slow-roasting a David Chang Bo Ssam, the juicy, crispy pork bits shimmering in the glow of the Sierra filter, is now its own very specific kind of show-offery.
And so, I realized that these events have always been varying degrees of mind-blowingly awesome and not much fun at all, depending on the alchemy of the moment. What's actually changed is just how we view them from afar. I'd go one step further than Wortham, and posit that FOGO arises not just because people are actively shutting out the stream of the social web — it's also that, now that the social web has gotten really good at its function of highlighting what everyone is doing, it is actually making us feel too present.
During the height of FOMO, in the late '00s and early 2010s, all we had were texts, some Facebook posts, and Twitter updates, which didn't quite paint a vivid enough picture of what we were missing out on. Someone tweeting "OMG Rihanna is here" left more up to the imagination, and in turn, the mind could wander, and concoct "what-if" scenarios in which you didn't flake out at the last minute on your friend's birthday party, and you ended up in line for the bathroom behind Rihanna, exchanging phone numbers, meeting up the next week for coffee, joining her on tour as a backup dancer, etc. With Instagram, I feel like I'm bombarded with identical palm-tree selfies and 875 photos of that darn caterpillar that both seem posted only to signify "I'm here, and this shot of Este Haim's armpit means I'm in the VIP area" and manage to also feel like meaningless, cliché stock images. By comparison, nothing is more exclusive than a quiet night in with Carr's Table Water Crackers, after all.