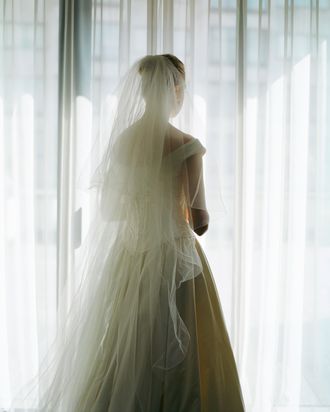 Photo: Dan Burn-Forti/Getty Images
"People often ask me when I tell them my story, 'Where you from? Iran?' And I tell them I'm from Brooklyn," Fraidy Reiss told NPR about enduring a forced marriage in her ultra-Orthodox Jewish community. She was married off at 19 to a husband who was abusive and volatile. Twelve years later, Reiss was able to escape with her two children.
There are a lot of assumptions surrounding forced marriages, namely that they don't really happen in the U.S., and, if they do, they happen to Muslim women from the Middle East or Africa. In fact, forced marriages have been documented in almost every U.S. state, across many religions, and in communities with ties to numerous different countries. One organization has documented 3,000 cases in a two-year period (though it's often under-reported).
Victims have little recourse, as the legal system isn't set up to anticipate the complexities of forced marriage. In many cases, the girl's parents simply sign a marriage license, waiving the state's minimum age requirement. Sometimes the women are shipped overseas and only allowed to return if they agree to a marriage. Or else they're coerced into committing immigration fraud in order to get the husband citizenship.
Once married, these women are often abused, starved, threatened, and even imprisoned. Reiss now runs Unchained at Last, an organization that supports victims of forced marriages. As she explained to NPR, "Women call and say, 'I've been in this house, you know, for seven years, since I was 16. I have two children. I haven't been allowed to leave the house. Please, please help me.'"
While the issue has received insufficient attention, victims can't usually speak out. Shame and fear of violence prevented Vidya Sri from seeking help for years. "We hide. We hide very carefully," Sri told Al Jazeera, adding, "This whole thing is so humiliating. It's so shaming, all you really want to do is drop dead." Nonprofits and community organizations are essential in helping victims find safety, but many women remain trapped across the country. There are no federal laws protecting women from forced marriages. Only nine states have laws that encompass forced marriage, so in the majority of the U.S., it's hard to prosecute.