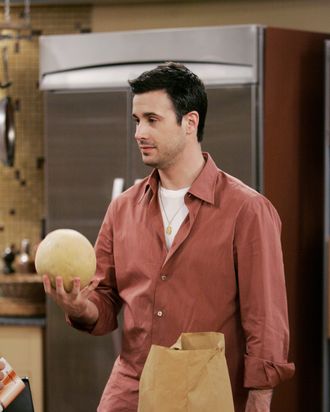 Freddie Prinze Jr. and an ingredient.
Photo: Craig Sjodin/Getty Images
In an important cinematic contribution to 2000 — Down to You — Freddie Prinze Jr. played a budding chef and a full-time love interest. Since that time, we have all wondered: Did he ever find success and happiness, in both the kitchen and in life? What became of his ambitions and his vulnerable spirit? We waited for answers, we bided our time, and, in all our spare moments, we wondered about young sous-chef Freddie Prinze Jr.
Not 15 years later, Freddie Prinze Jr. has quelled our concerns. He shall publish a cookbook! The book will be titled Back to the Kitchen and will be co-written with food writer Rachel Wharton. Back to the Kitchen will include "75 of his best recipes, plus tales." The young chef made it! He made food! He made tales! He's going to tell us all about both of them.