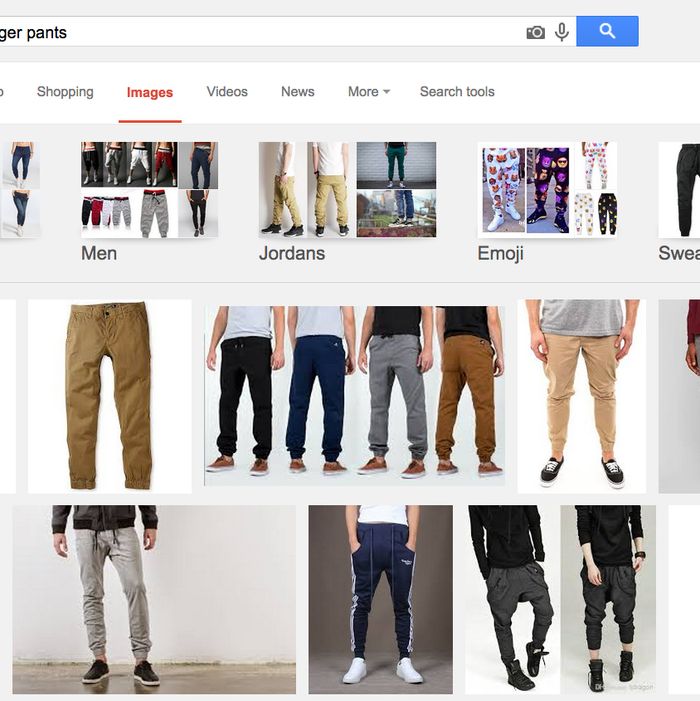 No longer content to serve you ads ad infinitum based on one wine-addled night of searching for Beyoncé's "KALE" sweatshirt, Google is entering the trend-forecasting game.
"The new trend aggregations are part of the company's bid to become a bigger player in e-commerce and fashion beyond its product search engine or advertising platform," writes Hiroko Tabuchi at the New York Times.
In its inaugural report, Google distinguishes between "sustained growth" trends, like tulle skirts and jogger pants; flash-in-the-pan obsessions like emoji shirts and kale sweatshirts; and "seasonal growth" trends, or styles that have come back stronger every spring, like white jumpsuits. It makes similar distinctions among sustained declines (peplum dresses), seasonal ones (skinny jeans) and fads that are probably over and done (scarf vests).
As is often the case when a robot attempts a once-human job, the results should be taken with a grain of salt. "Google's data encompasses all searches that appear related to apparel … A search for 'tulle skirt,' conceivably, could signal a shopper looking for an item on sale or a baffled fashion novice looking for a definition of it," writes Tabuchi.
Remember that scene in Unzipped where Isaac is recounting the inspiration delivered to him by the Ouija board? "Ouija likes boys at night." Well, Google likes jogger pants for day.