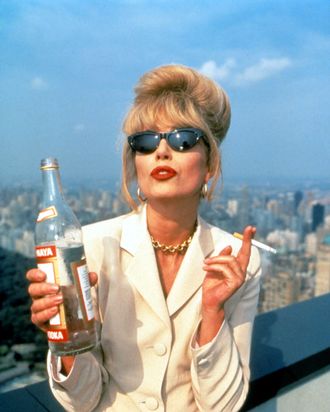 There's a new theme every day on It's Vintage. Read more articles on today's topic: The Fashion Editor.
"Ab Fab found a way to make fun of 'fashion people' without alienating them," says Irene Albright of the Albright Fashion Library (and one of our trusted advisors for It's Vintage), of the cult BBC series. "It highlighted the aspects of the industry we are all guilty of, and made us laugh at ourselves."
The show did that through its two main characters, the fashion magazine editor Patsy Stone (Joanna Lumley), and her best friend, Edina Monsoon (Jennifer Saunders), a PR guru. Patsy nails it as a larger-than-life editor, from her Über-glamorous getups to her many memorable, outrageous statements. (It's safe to say that anyone in fashion has met an editor or two her character could be based upon.) Here, we revisit a few of our favorite fashion-centric moments from the show over the years, including cameo appearances by Kate Moss and Stella McCartney and of course, that iconic Lacroix scene.
It gets very Devil Wears Prada when Patsy's intern arrives. "I've been waiting," says Patsy. "So, did you meet the advertisers? Did you check out this month's production? Did you talk through the layouts? Did you do all the returns?" she asks. Her intern's response: "Yes, and oh, I had lunch with Karl Lagerfeld."
Patsy devises a mood board: "Hello, Alex. Yes, this is the mood board for next edition. Sex, bitch, aristo, sex, punk, whore, bitch, prozzie, lezzie, punk tart, slut. But, oh Alex, with lovely shoes."
When Patsy meets Kate Moss, Stella McCartney, and David Gandy, she tries to find common ground with the supermodel, saying,"You're just like me, Kate, us 39-ers must stick together."
A (pre-Empire) cameo appearance by none other than Naomi Campbell, who is on the receiving end of Patsy's complaints about models: "I wish you could see the tragic cases who parade every day through my magazine just in search of a spread."
Patsy and Edina vent about two of fashion's most divisive subjects: the royals and their Stateside equivalent, the Kardashians.
Ever the fashion victim, Edina tries on a directional Lacroix and Jean Muir combo in front of her dubious daughter Saffy. Of the scene, Albright explains, "There's no more iconic line than 'it's Lacroix.' There's something that's so real about how people justify something not fitting, or looking ridiculous because of a designer label, everyone has had those moments."