Halsey's Dream Pop and Instagram Obsessions
The blue-haired singer of "Hurricane" talks to us about her music, being a rebellious team, and Jaden Smith.

The new female musicians to see this summer.
Halsey's Dream Pop and Instagram Obsessions
Photographs by Shae Detar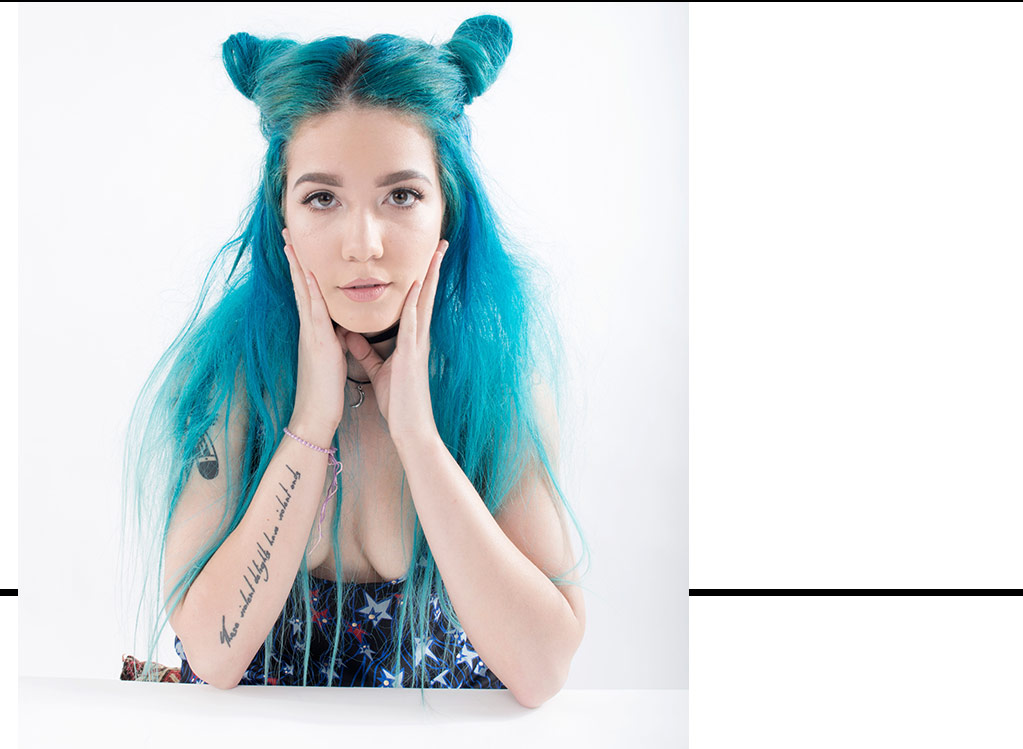 Name: Halsey
Real Name: Ashley Frangipane
Age: 20
Single to Hear: "Ghost"
Video to Watch: "Hurricane"
Where You'll See Her This Summer: Hangout Festival, Shaky Knees, Lollapalooza, North American tour with Imagine Dragons.
Hometown: Clark, New Jersey
Twitter: @halseymusic
Instagram: @iamhalsey
Twenty-year-old Halsey has become known as much for her bright, constantly changing hair color and her openness-to-the-point-of-oversharing on Instagram as for the dreamy vocals about "sex and being sad" that she layers over ephemeral pop with R&B undertones. Although she's released only one five-song EP so far, Room 93, Halsey has already racked up over 3 million SoundCloud plays and is touring with Young Rising Sons and Imagine Dragons this summer. (She's planning to release a full-length album later this year.) She spoke to the Cut about how she was afraid to release music at first, why she remixed a Jaden Smith song, and why shaving her head in high school was liberating.
You had over 50K followers on Twitter before you released any music. How did you build up so much of a fan base prior to dropping the EP?
I was doing some YouTube covers, and I had a decently popular blog on Tumblr. It [had] a couple of thousand followers. I had it since I was 16, so I would post about rock bands, One Direction, stores I like, TV shows I was watching, and all the things I was really into and posting stuff from my real life, too. I had a crazy life for a teenager. I lived in New Jersey, but I'd go to Vermont for three weeks, join a commune, take pictures with the guy I was dating, come back home, and post photos. I think everyone online was just like, "What the fuck?"
How did your parents feel about that?
I don't think they knew what to do about me, but they also trusted me and respected me as an adult. I was always safe, but I just wanted to live. The song "Hurricane" is about a guy I dated [at age 17] who had a heroin addiction. I'm from middle-class New Jersey: I'm not from somewhere where addiction is a common thing. I was in the city on the weekends, and I started posting pictures from this crazy Harmony Korine, Larry Clark life I was living. I posted poetry and my own thoughts.
That generated people who thought of me as a "tastemaker" — people thought I knew what was cool and what was "next." That made it really easy for me when I put music out, because I had already established myself as a tastemaker with what I wore, the music I listened to, and what I did. I was terrified, and I had never put original content out. I thought people would think I was a wannabe.
You post a lot of intimate pictures on Instagram — including one naked in bed with fries. How does Instagram help your overall image?
I will never do anything that appalls anyone. I will never do anything that anyone's surprised by. If they like me, they already bought into me as a person. My music is intended for young adults. I write songs about real shit: about being sad, wanting to have sex, being confused, someone hurting you, wanting to feel wanted, and wanting to feel used. If I am who I am, I'm provocative, candid, and androgynous; there's nothing I can do that will make any fan think, I didn't expect that from her. I can't get in trouble. No one can dig anything up on me, because I put it all out there.
You recently released "Slow," a riff on Jaden Smith's song "Fast." How did that happen?
One night, Lido [Editor's note: an electronic producer and also her boyfriend] and I went off. We thought ["Fast"] was so weird; it was good. We figured we'd do a remix. We mixed in all these weird samples and slowed down his voice. I wrote the top-line in probably 10 minutes. We used some J. Cole flips [samples], some Jhené Aiko flips, and Miguel flips. There's also a Kid Ink flip in it. We just buried it and never planned to put it out. Then a couple of months later, Lido was putting out a bunch of songs for free. We thought, let's put out "Slow." The response was ridiculous. The blogs loved it, and a lot of the big players in hip-hop loved it. Jaden tweeted the link to the song and didn't really say anything. As soon as I saw it, I was running around my hotel room throwing towels. I was like, "Yes! I'm done. I'm good. I don't need to make music anymore. I'm out. Jaden Smith loves my song."
A lot of kids started attacking me, saying that I was ripping off J. Cole and Jaden Smith by doing flips. It was interesting to me how if a man in urban music does it, it's just a part of hip-hop. When I did it, it was considered stealing because I'm "not that kind of artist." It was an opportunity for me to educate people a little as well.
In the past, your hair color has gone from blonde to pink to blue. Why do you change it so much?
When I was in high school, I cut all of it off. It's interesting because when you're a teenage girl, a lot of being pretty has to do with your hair. I didn't want to be pretty anymore. It was weird, because I had to learn how to be sexy and feminine without relying on long, beautiful hair. I had this completely buzzed haircut, and I had to learn how to be feminine all over again. Blue is my tour color because blue makes me feel creative. All of my album artwork and EP artwork is the color blue. So, blue is a good color for me right now — I have blue hair. I'm not attached to my hair.
Hilfiger Collection chiffon star dress, $690, at Tommy Hilfiger, 681 Fifth Ave., 212-223-1824; tommy.com. Artist's own jewelry. (Photographs by Shae Detar, styling by Amanda Lee Shirreffs, makeup by Faith Bartruff.)