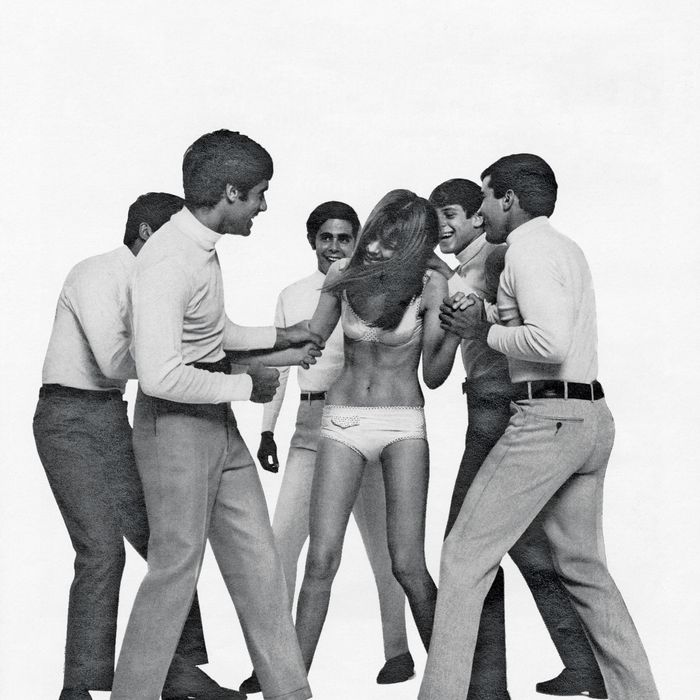 A photograph from "Unbranded: A Century of White Women, 1915–2015," opening at Jack Shainman Gallery this month.
Photo: Courtesy of the Artist and Jack Shainman Gallery, New York
In the year of Barack Obama's election, the artist Hank Willis Thomas created a project called "Unbranded: Reflections in Black by Corporate America, 1968–2008." It was made up of 82 magazine advertisements, two from each year, that showed or made reference to African-Americans — except that he'd stripped all the text out. Sans captions, the illustrations and photographs turned flat-out strange, and were uncannily revealing about the intentions and attitudes of the (mostly white) people who made those ads.
Starting April 10 at Jack Shainman Gallery, he'll show a follow-up project, "Unbranded: A Century of White Women, 1915–2015." Once again the images speak for themselves, as the original ads aren't on view or in the catalogue. The models are posed in just about every way you could put a woman in a corner: caged, dangled off cliffs, straddling all sorts of objects, straitjacketed. They're often funny — can you believe that was considered okay? — before they're not. But Thomas cautions us to avoid how-far-we've-come platitudes, in part because the ad images from the past few years aren't so progressive either. "Our values," he notes drily, "may be seen as pretty problematic to the next generation."
*This article appears in the April 6, 2015 issue of New York Magazine.