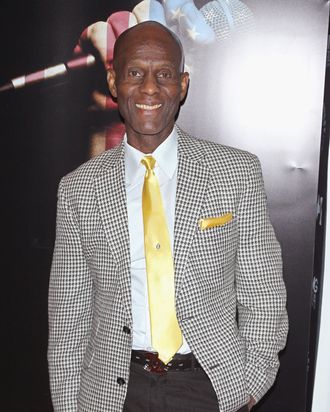 Dapper Dan.
Photo: Jim Spellman/Getty Images
There's a new theme every day on It's Vintage. Read more articles on today's topic: Logos.
No one is more aware of the importance of the logo than Dapper Dan. The Harlem entrepreneur, born Daniel Day, developed a proprietary process for screen-printing on leather in the '80s, just as logomania was cresting. He opened a boutique on 125th Street in 1982, and soon, he was outfitting Mike Tyson, the Fat Boys, Floyd Mayweather, Salt-N-Pepa, Diddy, Run-DMC, and LL Cool J in his takes on the popular logos of the time. (Rather than "knockoffs," he prefers to call them "knockups.") His logo designs soon spread to custom car interiors, curtains, and furniture, and his store was open 24 hours a day to satisfy his customers' voracious appetite for all things logo. Less over the moon about Dan's work? The luxury brands whose logos he appropriated. A late '80s raid on his store (led by Sonia Sotomayor, then a lawyer for Fendi) marked the beginning of the end, and he closed down shop in 1992. Jay Z went on to rap "Got a G on my chest/I don't need Dapper Dan," signaling hip-hop's growing preference for real logos over faux ones.
A 1989 New York piece on Dapper Dan described a menacing bodyguard standing outside the store, while inside, the designer kept tabs on the sales of what he called his "macho type of ethnic ghetto clothing." When asked if he would consider moving to another location, he said, simply, "This is our Fifth Avenue." The Cut caught up with the design legend to talk about his favorite logos, Kanye, and his beef with the fashion establishment.
When did you start becoming aware of the power of the logo?
I think the first one that I became aware of was Christian Dior, because the Christian Dior hat was popular. That was the big one; the hat and the umbrella. And after that, I remember Pierre Cardin, his suits.
What do you think is the power of the logo? What about it appeals to people?
It signifies status, and money, which go hand in hand. The thing is, you can have the status but nobody will know you don't have the money. So that's what gives it such an impact in your look.
What were the most popular logos in the store's heyday?
Each had their period, but Louis [Vuitton] stayed with it. Louis never wavered; it always had that impact. But Gucci had a greater impact because there was so much more you could do with it. Louis just had the basic print.
Did you ever imitate Gucci's bamboo-handle bag or the horse-bit loafer, or anything like that?
Yeah. That's how Gucci made a heavy impact. Even in my clientele, you had people that didn't want the letters all over. So they could have the piping — the red and green, and that's the signal right there. So that was powerful.
Do you feel that the logo versions you did were defensible as your artistry, your creativity, and not copies? Did you feel like you were doing something different?
Oh yeah. I never used or designed anything that [the luxury houses] would think of — I was too cutting-edge for that.
Eventually, you started doing car interiors. Were there other things that you did that were kind of unlikely?
Furniture, curtains, anything I could think of. Guys wanted the heavy stuff, you know? They wanted a car done, a sofa done, the Jeeps had to have the [logo] symbol in the back. Anything that they can imagine.
You did so many designs for rappers, starting with the old-school rappers up until Diddy. Have you ever designed anything for Kanye? 
Kanye is probably a little off the medium. He's somewhere else.
Yeah, there was a period when he was so into logos, he called himself the Louis Vuitton Don. Now he's obviously doing something totally different.
Louis took him in, so he never would have gone to me, until he realized — I think he spent a lot of money to realize — he was subject to the same thing I was subject to. You can wear it, you can promote it, but you're not getting a piece of this.
Right, he was never the face of the brand — he was giving the brand a lot of free advertising.
Yeah, I think that was a rude awakening for him.
Are there designers who you think are doing something interesting with their logo now? I think of Jeremy Scott and what he's doing with Moschino. 
The flexibility that they have now is great. They're going after young clients with young ideas and they're playing around with it, and the marriage between the young [designers] and the traditional labels is making that possible.
Did you ever hear admiring things from any other people in the fashion industry? Or are there designers now who have said things to you? 
Oh, I've met a lot now.
Who are some of those people?
I have a lot now. And you have to remember, I was removed from that — I was in a separate universe altogether. I didn't think —
You weren't going to fashion shows or in the industry in that way.
No, I had my own fashion world. I always thought that I was locked out, so you know. I don't know if you read the [New Yorker] article on me, but [the fashion establishment] didn't want to have that kind of relationship with me.
Certain artists like Tom Sachs use logos in their work all the time, and the companies don't really seem to go after them, maybe because  from a legal perspective, it's defensible as art. Do you think there's a reason why you in particular were penalized, as opposed to some artist showing at Art Basel?
I'll tell you why. I think because they needed me out of the way so that they could take it to that level. It's better for it to come from a young, white designer than to come out of [points to himself] here.