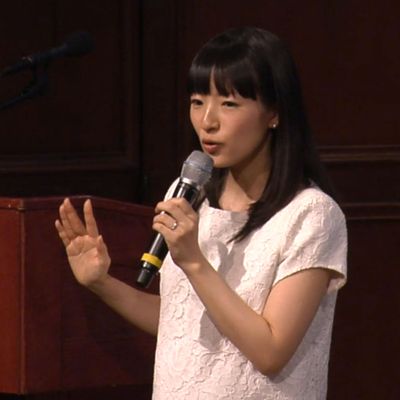 Last night at 92Y, Marie Kondo and Wendy Goodman reunited onstage to discuss Kondo's infectious "KonMari" method of home organization. Donning a signature white dress, Kondo empowered the audience to dismiss belongings (after, of course, thanking them for their service) that do not "spark joy" — and also dropped hints about her next book. Here's what we learned from the talk that sparked the most joy in us:
Kondo advises that you stay in your self-help lane rather than imposing it on others. Practice the KonMari method and simply wait until your roommate or significant other follows suit.
What about shoes that spark joy but also spawn blisters? Kondo says keep them in your closet, not on your feet.
It's okay to throw those "skinny jeans" away if you decide that carbs are what really spark joy.
Kondo will release an illustrated guide to tidying up in the near future. In the meantime, we'll rewatch this super-satisfying video.
Watch the full video here.