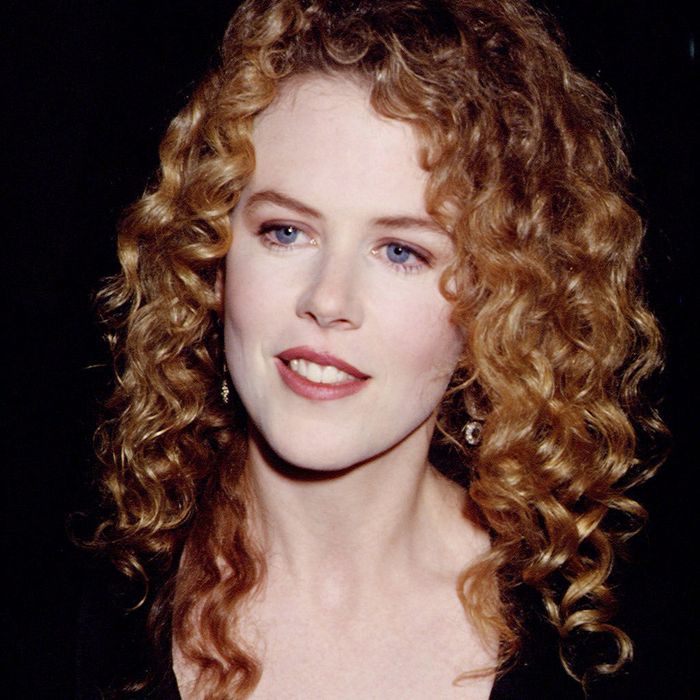 Nicole Kidman, curly here.
Photo: Frank Trapper/Corbis
If you have curly hair, your life is ruled by constant uncertainty. Each shower, each nap, each night, each journey into the outside world: Everything could change everything. Any duration of time and any interaction with physical matter (a pillow, a hat, liquids of all sorts) could transform your whole system. You never know how things are going to go.
Depending on the elements, I run the curl gamut from pre-Raphaelite angel to shaggy male lion, to Ashley Olsen in So Little Time, to gracious winner at the 1983 Country Music Association awards. These are the good days. On the other days, any factor could be responsible for curl ruin. Any droplet could start a butterfly effect of frizz. This, I believe, makes the curly-haired sort particularly sensitive to the rhythms of life and particularly suited to chaos in general.
Maintaining — or rather repairing and reconstructing — my curls has historically occupied a significant chunk of my energies (vanity category). Especially in our blessed year 2015, when we have been given permission to avoid shampooing, I find myself rehabilitating day-old or three-day-old curls with gusto. These curls may have faced wind or rain or snow or heat (really anything mentioned in the postman's creed), but I will present them as fresh and new.
This task involves ignoring instructions on bottles, which invariably suggest you apply their product to damp hair. You must experiment. For the sake of your curls, turn the fine print to the wall.
These are five major curl-destroyers and how, based on my personal experience, to repair your wonderful curls after each:
1. Humidity
The Strategy: I don't have to tell you this. Humidity is our most reviled nemesis. After your hair has been frizzed into disarray, this is what you must do: You must add more water to your hair. I know, I know: You just got BURNED by water. It's a cruel world. But hair of the dog, dude. So swallow your pride, splash water onto your hands, and pat your curls without disturbing their structure. Pat without disturbing? Again, I know. Life is hard.
A Helpful Product: Carol's Daughter Marula Therapy and Diffusing Lotion. This stuff is good; it makes a big effort to keep the curls together, while keeping them soft and unsticky.
2. Bed Head, the Kind That Looks Foolish
The Strategy: Find natural segments of your hair and apply a small amount of product gunk to each segment individually. If there are any strange kinks caused by hair ties or sleeping weirdly or having the gumption to wear a hat, add water and press down, perhaps using the tension of a hairpin to keep the offending segment flat against your head.
A Good Product: Try Alterna Caviar Seasilk Oil Gel. This is the hair product of a mermaid; it feels like a dream of sea kelp. It hovers between a serum and a gel, and brings a sense of calm.
3. Human Exudate (Sweat, Grease)
The Strategy: Dry shampoo! That's it, sweet curly-headed cherub. Just get a bit of this at the roots and cover up your problems.
An Excellent Product: I found the perfect dry shampoo for us: DevaCurl: No-Poo Quick Cleanser. It smells fresh and doesn't require any mussing for it to sink in, which you know is crucial to our situation.
4. Wind Damage/You Had the Audacity to Go Outside
The Strategy: The curly-headed are often victims of their own free spirits. We want stand up in convertibles with the top down. To counteract wind ruin, spray a bit of mist and twist your hair along with the direction of your curls.
A Useful Product: Alterna Bamboo Smooth Curls Anti-Frizz Re-Activating Spray makes a lot of promises in its name, yes, but it tries very hard to do what it promises.
5. WHO KNOWS WHAT HAPPENED BUT EVERYTHING IS RUINED
I'm so sorry. I understand, but I bet it's fine and you're just being a little cranky.
Sometimes ,though, if the factors of life have really fouled up your world and everything is spiraling out of control, you might have to start over — i.e., be born again, i.e., have a baptism, i.e., take a shower.
Good luck to you. Good luck to your curls. Carry on.