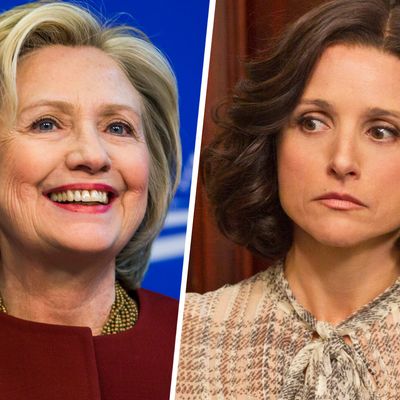 Hillary Clinton and Veep's Julia Louis-Dreyfus.
Photo: Corbis, HBO
According to Veep star Julia Louis-Dreyfus, power-suit ambassador Hillary Clinton may be planning a strategic acquisition of the show's makeup artist, Barbara Lacy. Lacy has done the former First Lady's makeup for years, but also works on the Veep cast (although not Louis-Dreyfus's Selina Meyer). In an interview with Allure, the fictional president expressed her distress:
"Can you believe that we have Hillary Clinton's makeup artist? And now Hillary is apparently announcing soon. So, yeah, I'm confident that we will lose her."
If you've never noticed Clinton's makeup before (unlike her scrunchies), it's a strategic choice. In an interview with The Hill in 2010, Lacy explained the importance of nuanced campaign makeup: 
"My whole job was to make sure that people weren't focused on [Clinton's] face," she said. "Her face can't be a distraction. And that means just looking good and healthy and rested. You're noticing that the person really looks good, and you're not really sure why, so you keep staring at them. And that's the art."
But the question is, will Clinton send an email or a text to summon Lacy back to work on the campaign trail? Maybe a carrier pigeon is safer.