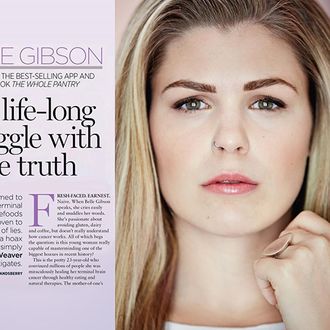 Photo: Australian Women's Week
Boing Boing's Xeni Jardin has a powerful post up about the news that Belle Gibson, a popular young Australian wellness blogger, has admitted to lying about having cancer. Gibson had convinced many people that she had "cured her terminal brain cancer by avoiding gluten and sugar," as Jardin puts it — a claim that deserves to be treated with about as much merit as a report of a unicorn sighting. Gibson had used her story to help drum up her media profile and push her nutrition app, the Whole Pantry (the planned Apple Watch version of which disappeared from the app store about a month ago).
As Jardin, who has herself battled breast cancer, points out, we've entered the mass-shaming part of the story, with the predictable torrents of internet anger. It's an understandable response, but it leaves out the complicity of many media outlets that should have known better.
Because sure, Gibson was embraced by many of the usual suspects — small health and wellness blogs with shaky-at-best understandings of science and bones to pick with processed foods and "Western medicine" — but a bigger part of the reason she was able to carve out a successful niche in the wellness world was that that mainstream outlets, particularly in her native Australia, offered her fawning coverage.
"The Whole Pantry founder inspires in the face of terminal cancer," enthused a headline on news.com.au, a major outlet. "The Whole Pantry came out of Gibson's determination not to be crushed by her illness and to find a way to help people like herself," wrote the IT columnist at another. "The 25-year-old has turned her cancer diagnosis into a positive, believe it or not," gushed an Australian Yahoo! TV host. Australian Women's Health called her a "health game changer." Thanks in part to all this attention, Gibson was able to expand her popularity to the States. As Jardin points out, Cosmopolitan even gave her a Fun Fearless Female award in the social media category.
It's not reasonable to expect every single employee at every single outlet to be completely up to date on all the latest nutritional science, of course. But outlets do have at least some responsibility to not mislead their audiences. Gibson's claims were, on their face, so outlandish that offering them a megaphone did real harm to readers and viewers: not just by encouraging them to follow a charlatan, but by potentially nudging them away from real, established treatments for diseases that can frequently be fatal. Gibson's a liar, but she was only able to become a successful liar because so many people amplified her story without checking it first.