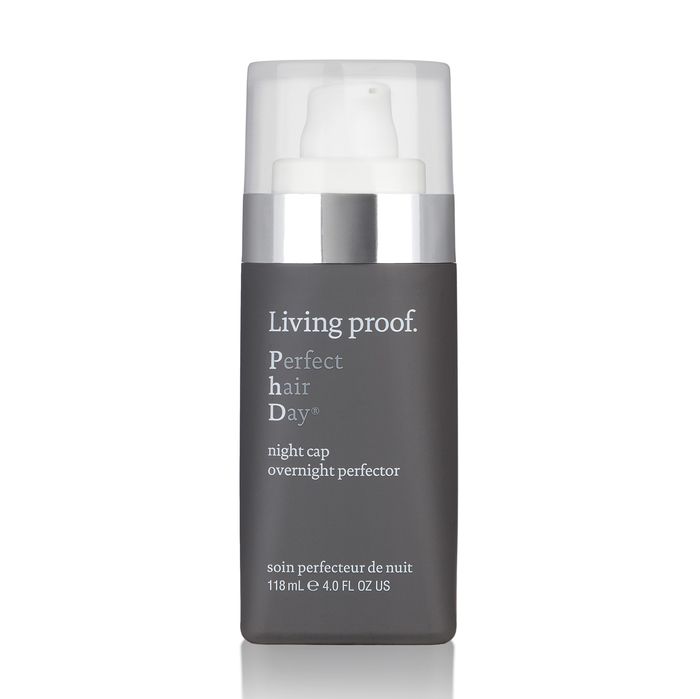 Photo: Courtesy of Living Proof
As a beauty editor, my mornings are sort of like beauty Christmas. I tear out of bed (following several snooze alarms) and race to the mirror to see what effect the mysterious lotions, masks, and creams I slathered on the night before have done to my appearance. Sometimes, the results are very bad — like the time I discovered benzoyl peroxide gives me allergy-face — and sometimes they're surprisingly good. The morning after I used Living Proof's new leave-in conditioner, Night Cap, I woke up to hair that looked like it had just come from a shiny glossing session at the salon. My overprocessed hair no longer had the texture of Coachella grass; it was smoother and sleeker. You can apply the no-mess product (it won't gunk up your sheets) to either damp or dry hair at nighttime and wake up with shiny, smooth results, thanks to Living Proof's Healthy Hair Molecule (OFPMA), which uses a combination of amino acids and proteins to seal and smooth the hair cuticle and preserve color. It can't help you sleep better — but you can rest easier knowing your hair is getting the best sleep of its life.
Living Proof Perfect Hair Day® Night Cap Overnight Perfector, $28 at Sephora.com.