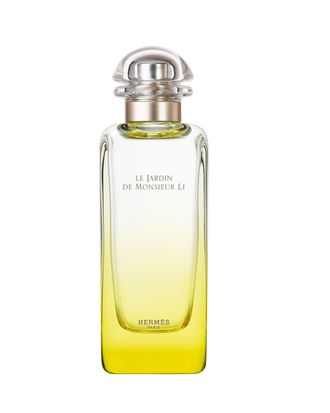 Jardin di Monsieur Li, by Hermès.
There are scents that linger in a room long after you've left, and then there's Hermès's Le Jardin de Monsieur Li, a placid fragrance that smells like diluted herbal tea. That's not a criticism, in fact, few things are as delightful to me as a cup of mild tea. For a whiff of the jasmine, orange, and slightly minty scent, someone will need to lean very close — it's a personal kind of fragrance. Le Jardin de Monsieur Li is subtle and can easily be worn on the wrists of both sexes. Thin, but not watered-down, it blends smartly with your body's natural scent and feels like an extension of your own aroma. If you're feeling bold, you could say that you're wearing nothing at all, leaving others perpetually confused by your superhuman ability to always smell naturally fantastic.
Hermès Le Jardin de Monsieur Li Eau de Toilette Spray, $131 at Bloomingdale's.