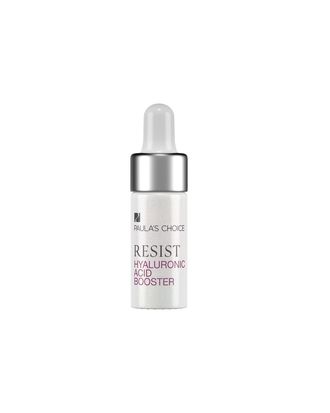 Paula's Choice Resist Hyaluronic Acid Booster.
Photo: Courtesy of Paula's Choice
It makes sense that a lot of people think that hyaluronic acid sounds scary (it is, after all, an acid that goes on your face). But it's actually a relatively gentle skin-care ingredient, best known for its moisturizing and anti-aging properties. The acid is most commonly injected into wrinkles to plump fine lines — a treatment that is way too intense for me to even consider — but when I heard about a new topical version from Paula's Choice, it seemed like a good place to start.
The instructions on Paula's Choice's Hyaluronic Acid Booster — which is thick and oozes out of the bottle like honey — say it can be used once or twice daily, mixed with a moisturizer or by itself. After I added two drops to my morning moisturizer, I noticed results immediately. My skin became so smooth and the little lines around my mouth were less visible too. Though the formula is extremely viscous, it doesn't feel sticky or heavy on my skin. It's super-hydrating, too, because of the formula's generous supply of glycerin and water-retaining ceramides.
I'm sure that it doesn't mimic the exact effects of a hyaluronic acid treatment you can get at the dermatologist's office, but if it makes my skin look like I was born with the smoothness of a built-in BB cream, it's a compromise I can handle.
Paula's Choice Hyaluronic Acid Booster, $45 at Paula's Choice.