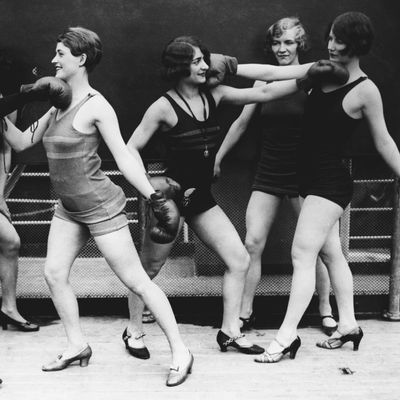 I've been jab, jab, weave-weaving for a solid 30 minutes. My arms are so exhausted I can barely protect my face. There's sweat dripping into my eyes and pooling up into my boxing gloves. My feet are dragging and I stumble as I'm circling my opponent. Meanwhile, she's bouncing back and forth on her toes with an ungodly amount of energy, bobbing and weaving like she's Floyd Mayweather Jr. in a Lululemon sports bra. I want to remind her, "You know this is just a class, right?" But all 15 of us women and two men who have come here to Overthrow Underground Boxing Club are here for the "authentic boxing experience," so I guess I better buy into the act.
The class, which costs $34 a pop, is the brainchild of Joey "the Soho Kid" Goodwin, an amateur boxer with a background in fashion. It's advertised as SoulCycle for boxing  and takes place at 9 Bleecker Street, the historic former home of the Yippees. (The Overthrow name derives from one of their publications.) Pains have been taken to maintain the "anarchist-shabby-chic" vibe of the old space. Upon entry, students find a huge boxing ring where the owners sometimes stage reincarnations of the famed male model's Friday Night Throwdown, as chronicled in New York in 2011. Classes are taught in the basement, bathed in red light and candles. A perfect, funky, "boxing-gym sweat" scent permeates everything as if it is being pumped through the air vents. There is really no convenient place to change clothes, leaving you to do so out in the open. It's all very sexy.
Despite the artful grime, Overthrow falls solidly within a new bougie-boxing trend that seems to be gaining popularity in New York. I'll blame it on all of the models who Instagram themselves in Alexander Wang boxing shorts at Gotham Gym or Aerospace (Adriana Lima, Gigi Hadid, and Kendall Jenner are all devout fans), but there are more ways than ever for the novice boxer to pick up the sport. "Women are really getting more interested. I hear feedback from customers that they're starting to realize the heavy bag and the act of punching is a toning exercise and want to incorporate it into their weekly routine. Now it's spin, yoga, and boxing," says Daniel Glazer, founder of the pristine, soon-to-open Shadowbox gym in the Flatiron — it will feature C.O. Bigelow bath products and a juice bar, alongside "hard-core" boxing training. 

I'm a soft exerciser. I like hopping on the Arc Trainer mostly as an excuse to watch Law and Order: SVU at the gym, but there's this rage-filled, aggressive part of me that has always been interested in boxing as a mode of fitness. And while yoga asks you to find your center and SoulCycle annoyingly asks you to squeeze out some tears during the emotional last climb, it's rare that a "women-friendly" boutique class lets you tap into the primal, NYC subway–induced rage that exists in us all. But when I tried to recruit a friend who takes a non-boutique boxing class in Brooklyn, she rolled her eyes. "Do I have to give up boxing, since it's such a trendy girl-thing now?" Fair. I too, on principle, resent the pinkification or boutique-gymification of any traditionally gritty or masculine sport, but I'm an American adult woman and I need to work on my cardiovascular health. Plus, running is boring.

When I arrive at Overthrow, Goodwin is there to give me a tour. He lists all the iconoclasts and punk icons who have walked these same weathered hardwood floors. He mentions that there's a bit of a rebel spirit to what they're doing. They like to break the rules, which is why there's a Friday night Box and Booze social. "It's not really like SoulCycle," he tells me, as if worried about his edge. "It's more like Barry's Bootcamp."
Among the trainers are pro fighter Alicia Napoleon; the most famous of the male model boxers, Charlie Himmelstein (a.k.a. "Rockstar Charlie"); and today, Julian, who is impossibly handsome, tattooed, and pouty-lipped. Sometimes he's encouraging, sometimes he's flirty (which elicits giggles and ponytail twirls from literally every woman in the room, me included), but then all of a sudden he's tough, shouting that if we don't follow instructions, we're gonna have to do burpees. He's the dream bad boyfriend for 42 minutes.
I'm aware of the fact that to the casual observer it looks like we're all learning choreography for Boxing! The Musical, as opposed to actual boxing technique. But several things about it are pretty real. The time I kind of baby-bird threw up in my mouth during high-knees was pretty real. The moment when I was so desperate to remove my glove to get a sip of water that I put my teeth on the strap of a communal boxing glove is probably the epitome of real, pure grit. (It's a short step from that to being Manny Pacquiao, right?)

I'm still at the bag, throwing feeble punches, staring incredulously at Floyd Mayweather-ette over there. When do I get to stop and have a man sit me on a little stool, towel me down, rub my shoulders, and squeeze water into my mouth so I can spit it into a bucket? Instead, Julian cues up the Metallica and starts yelling, "Come on. Are you gonna give up? This is your fight. Who's gonna win?" I have no idea which "you" he's talking to but I assume it's me, close my eyes, and, with a surprisingly loud series of grunts (really, I shocked several people in the room), I start wailing on the bag with my eyes closed like I'm Ralphie attacking his bully in A Christmas Story. I intend to win by sheer wild flailing, finally tapping into the kind of crazed hitting that's only allowed in sanctioned fitness spaces. I move the bag with my furious fists — though I think at some point she stopped punching and was watching me in terror.
Doesn't matter. I win.