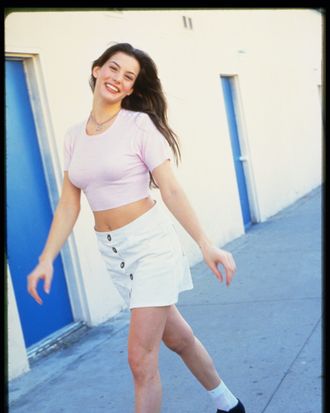 Peak baby tee: Liv Tyler in 1997.
Photo: Mikel Roberts/Corbis
There's a new theme every day on It's Vintage. Read more articles on today's topic: Rave Fashion.
It was 1994, I was 11 years old, and I was addicted to baby tees. Here is what my Saturday routine was: My mother would kindly give me $20 for lunch, I'd take the F train from Bergen Street to Broadway-Lafayette, meet up with my friend Anna, use about $3 of that money on a two-cheeseburger meal at McDonald's, and spend the rest of the afternoon meandering up and down lower Broadway searching for a perfect tiny fitted T-shirt to spend the rest of my $17 on. Not to be confused with the modern-day crop top, the '90s-era baby tee was a shrunken-down T-shirt (the equivalent of a kids' size medium or large) born out of the skater/raver culture that was tied up in the rise of the child-inspired look of that time. (See also: carrying a lunchbox, wearing Goody barrettes.)
You wouldn't find a baby tee folded on a shelf in the back corner of a boutique. No, at these downtown shops, the baby tees were the main event; displayed front and center on wooden hangers, perfectly un-wrinkled. The biggest players in the baby-tee game were Liquid Sky, known for its signature alien logo; Milk Fed, Sofia Coppola's first fashion line; the sort of shockingly named girls' skate line Poot!; Patricia Field, of course; and Baby Phat, with its scripted logo. And then there was X-Girl, the most coveted baby tee of them all. I had no idea who Kim Gordon was, but I had seen the cool girls a few grades above me pairing their various X-Girl Prep and Ye Olde X-Girl fitted tees with vintage boot-cut light-blue corduroys from Cheap Jack's and maroon Pumas, and knew that this was the look I had to have. The store was all-white, the music that played noisy and unfamiliar, the women who worked there beautiful and intimidating, and the baby tees over $30. I actually went back to the store with my parents, who were shocked by the prices, but allowed me to pick out one (white with a rainbow assortment of cameras lining the front) for my birthday.
It joined my regular rotation: a bright-yellow tee from Man Trap (its logo was a woman with a beehive); a light-pink shirt from Antique Boutique that said "Babie" in shiny silver Barbie font; a plain white one with a rubber ducky on it from Urban Outfitters; a ringer tee from an outdoor flea market next to Tower Records that had a Bert and Ernie decal on the front. When I couldn't stand eating another cheeseburger, I would supplement my more pricey tees by combing the racks of the nearby Salvation Army kids' section (most of them boys' soccer shirts) while wearing a bright-yellow Braces Are Beautiful shirt that I got from my orthodontist. I was neither raving nor skateboarding — heck, I wasn't even wearing a bra — but I think because baby tees were modeled after children's T-shirts, but were meant for adult women, and were a little bit rude (I once accidentally got one that had the word "Cunt" on the sleeve, before I knew what that word meant, and had to give it away), they felt just right for my prepubescent self. That is, until I discovered Co-Ed Naked T-shirts …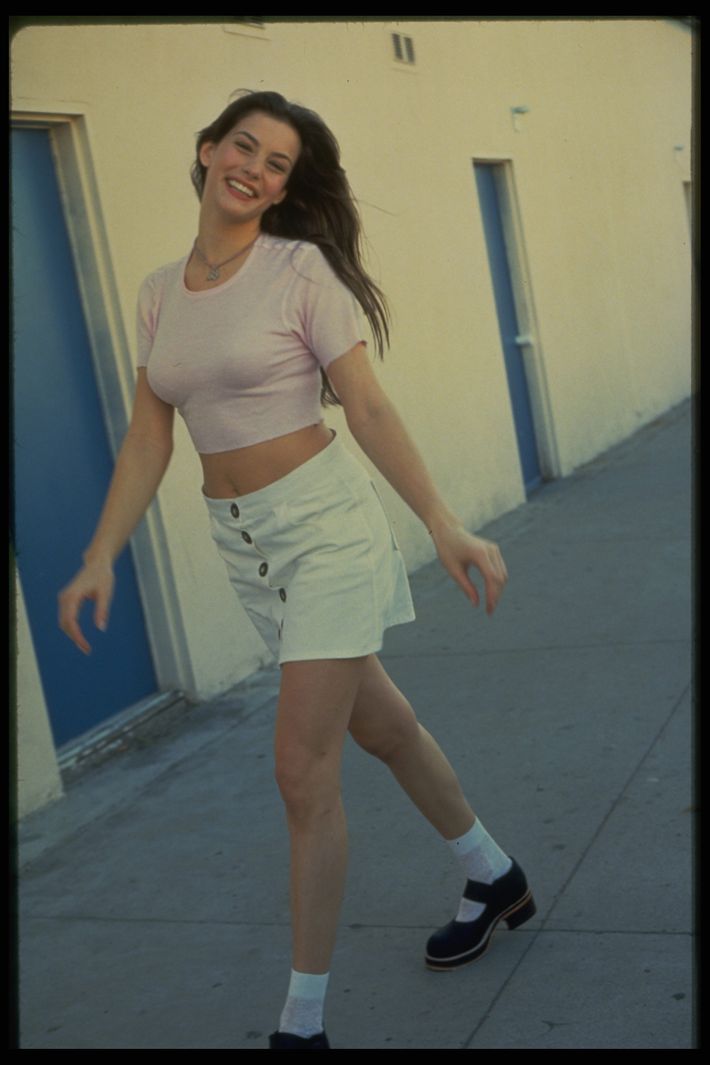 Nineties dream girl Liv Tyler paired a soft-pink baby tee with a button-up skirt in 1997.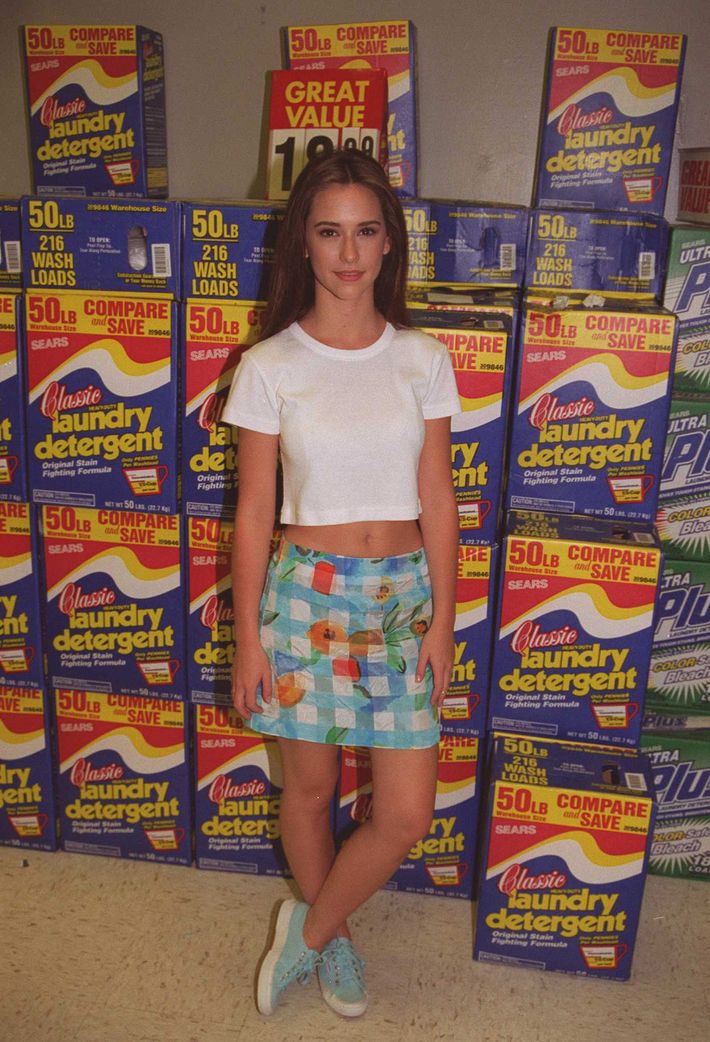 Jennifer Love Hewitt opted for an ultrashrunken, cropped version.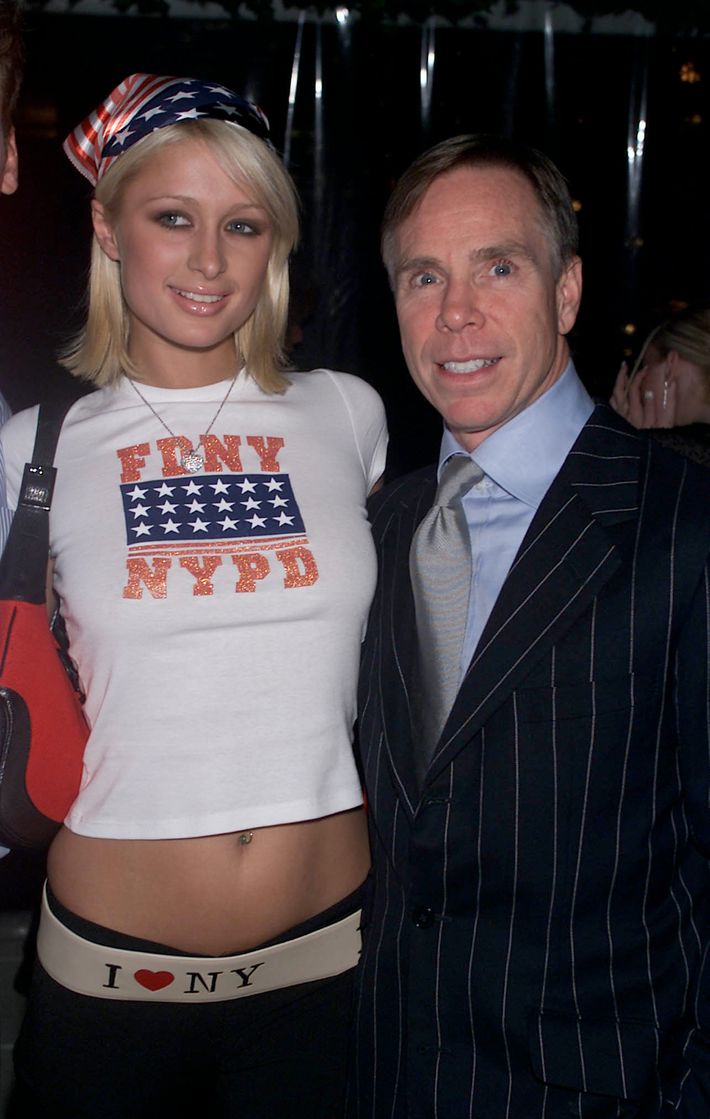 Paris Hilton used hers as a beacon of patriotism.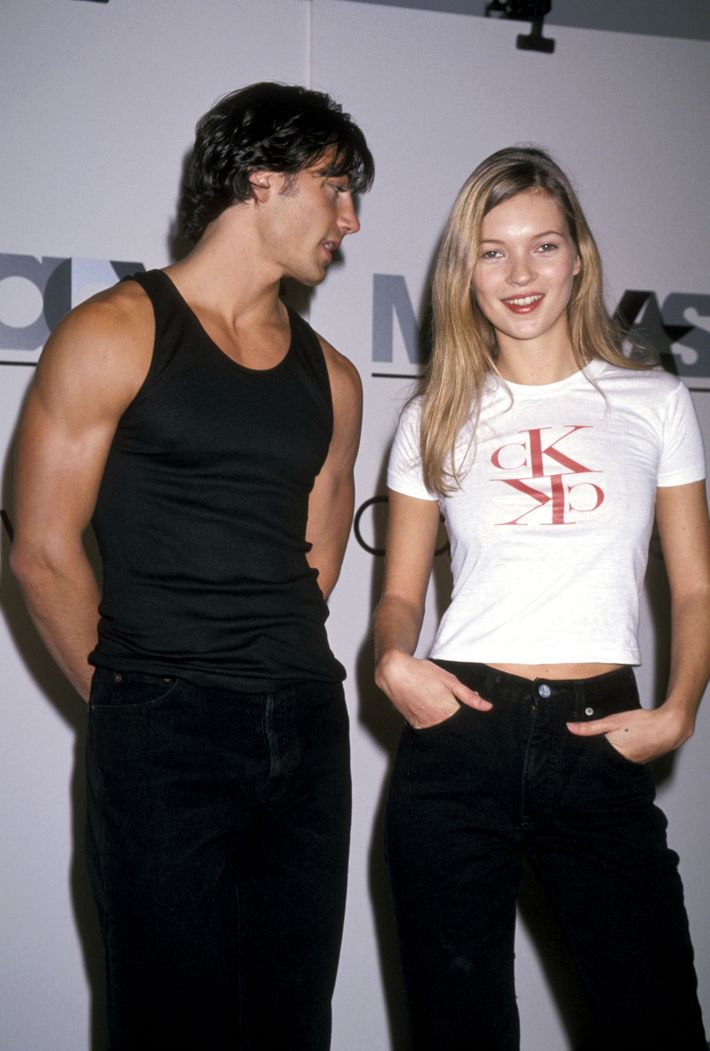 In 1994, long before #mycalvins was a thing, Kate Moss opted for a CK logo version.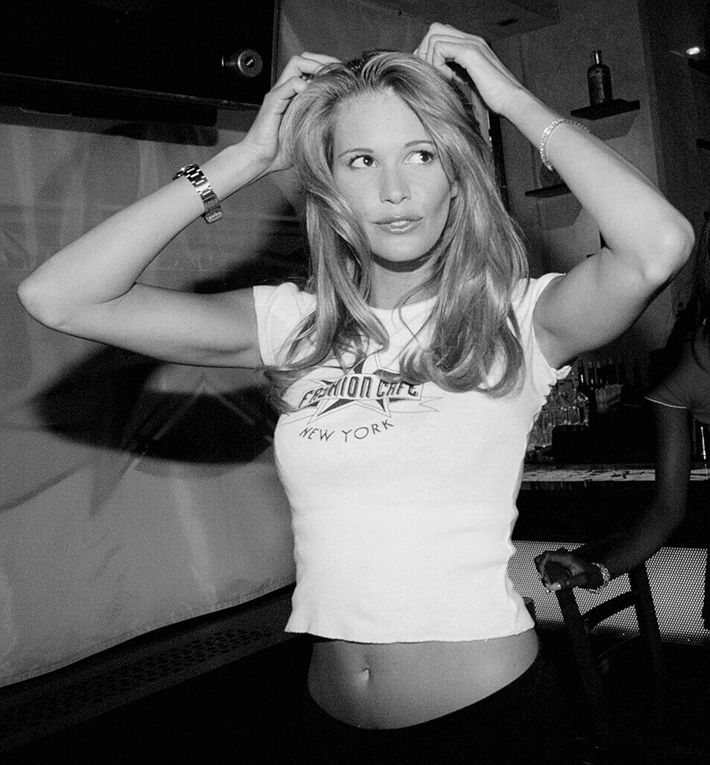 For the opening of the short-lived Fashion Café in 1995, Elle Macpherson showed off a fitted top.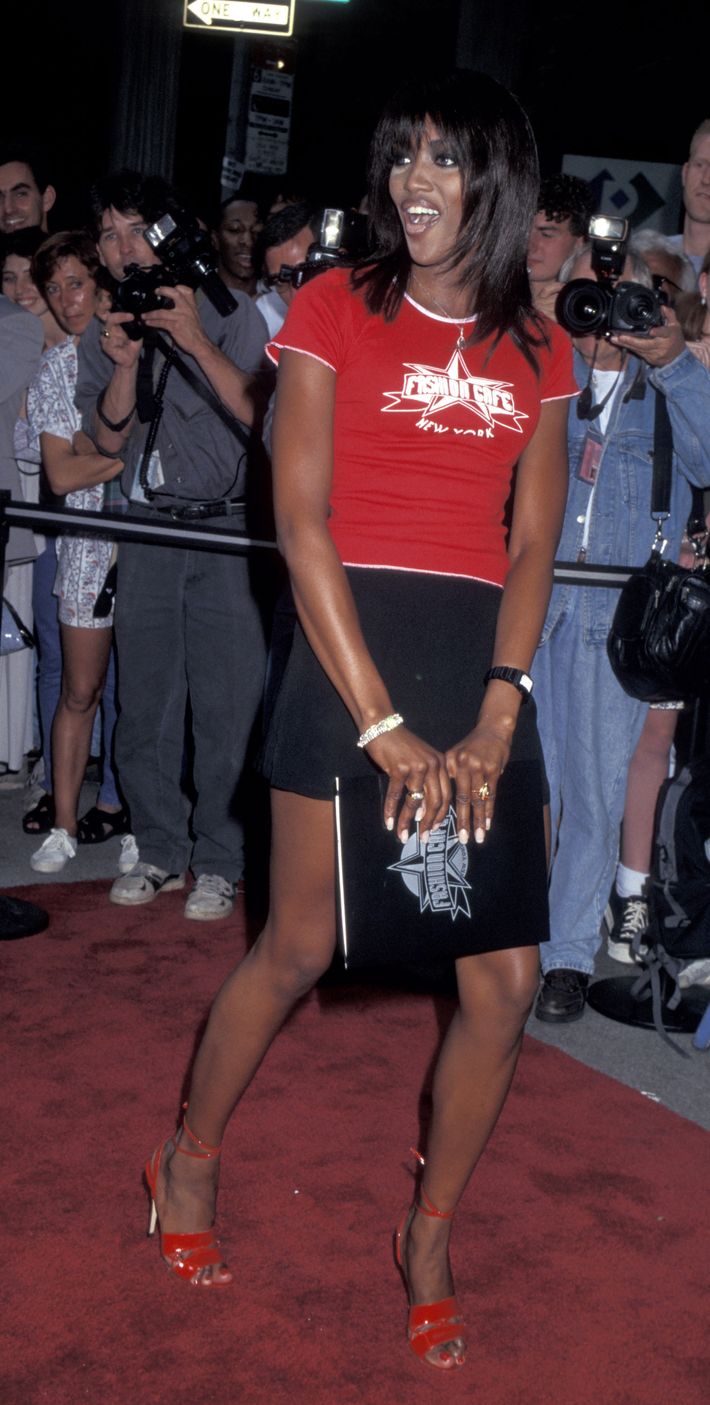 Naomi Campbell rocked a Fashion Café–logo baby tee of her own.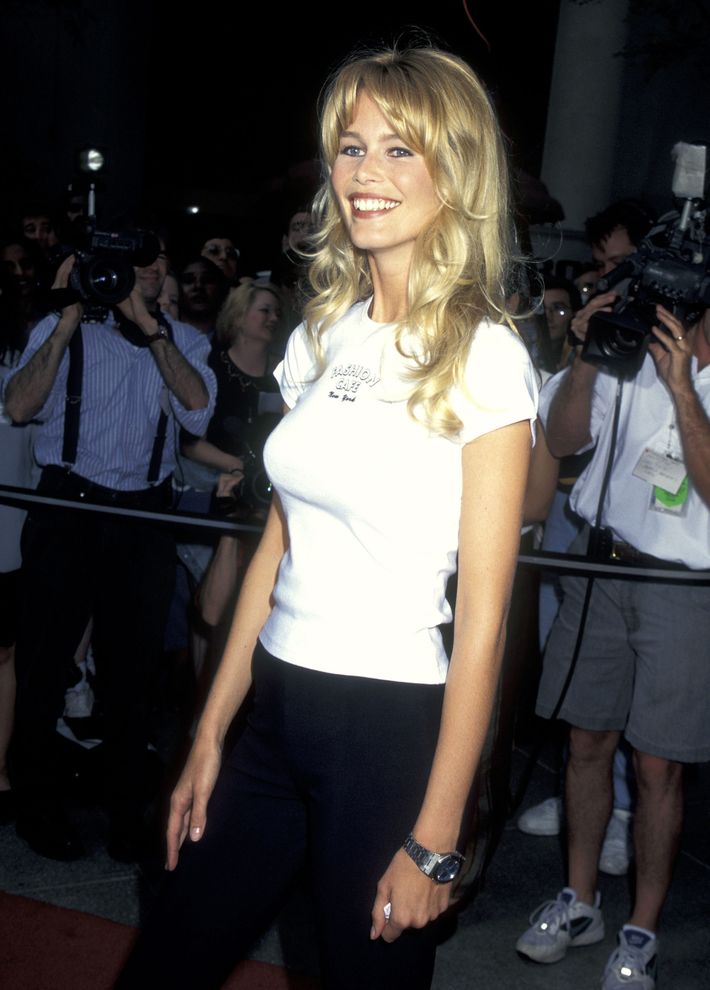 Completing the supermodel trifecta at the event was Claudia Schiffer.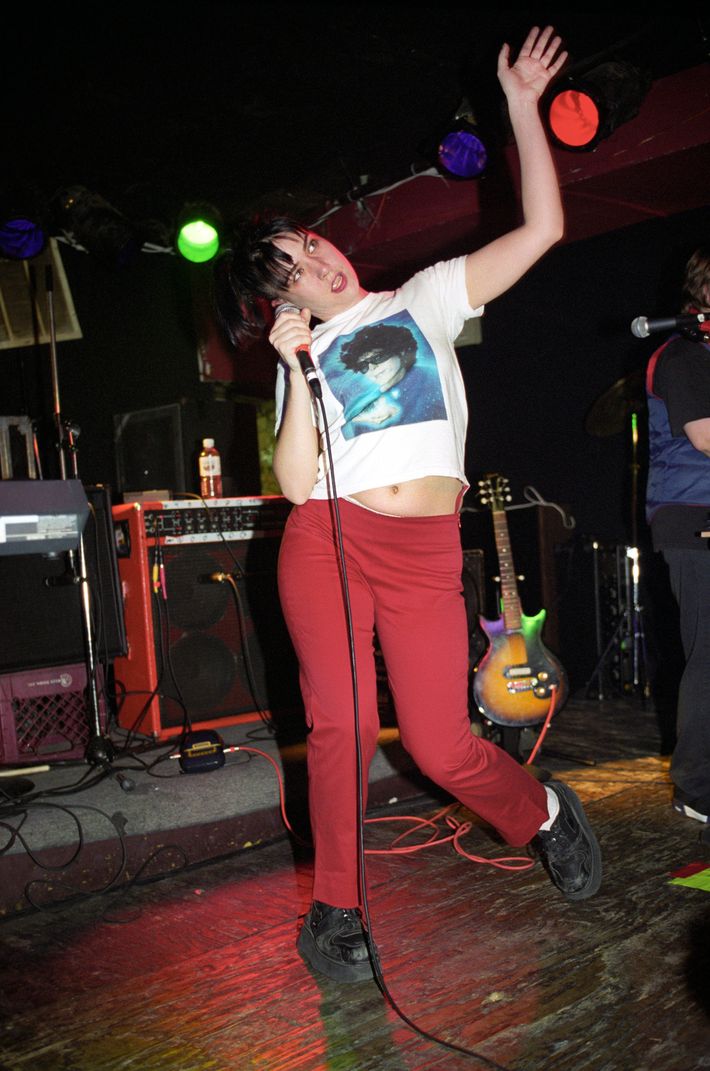 Behold: the riot grrrl take on the staple, as worn by Kathleen Hanna for a performance with her band Le Tigre.