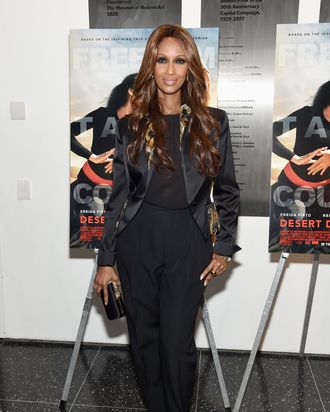 Iman.
Photo: Jamie McCarthy/Getty Images
Iman has lived in the United States for many years now, but the first time the Somali-born supermodel visited, she actually entered illegally. "I was under 18, and to leave Kenya to come to the United States, to get a passport, you had to be 18," she said at the Cinema Society screening of Desert Dancer on Tuesday. "So I lied and said I was 19 to get the passport, because [otherwise] I had to have permission from my parents, and my parents would never have let me come."
At the time, Iman was studying at Nairobi University, so figuring that her parents would never realize she'd gone, she popped over to New York. "I didn't tell anybody, but I thought I'd see it, feel it," she explained.
But her parents heard about it after all. "You know how they found out? I was in Newsweek a week later. It's the only magazine my father reads, and the next thing, he's reading, and there's a picture of me in New York, [saying,] 'She's the hottest model now.'"
"I broke the law!" she laughed. "But nobody can touch me now, I'm 60 years old, it's too late. The time has passed."