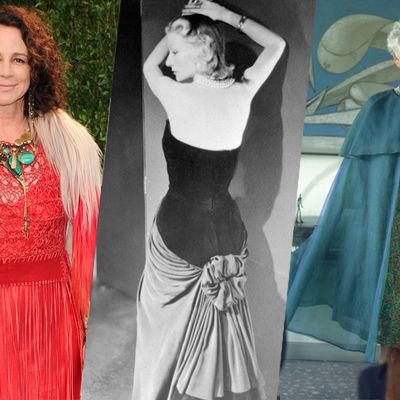 Lisa Eisner, Millicent Rogers, and Peggy Guggenheim
Photo: BFA; Corbis; Getty Images
There's a new theme every day on It's Vintage. Read more articles on today's topic: The Eccentric.
Leave it to the man who held a Nanook of the North–inspired show and once sent models down the runway with dyed-to-match poodles to school us on eccentricity. Unfortunately, Isaac Mizrahi thinks that true weirdness is on the wane these days. "It's been beaten out of the culture a little bit," he laments. "One year on Project Runway All Stars, Simon Doonan came on as a guest host for 'the eccentric challenge,' and he said this thing, which I thought was so brilliant: that eccentricity is what fashion is. You cannot be a fashion person without being the tiniest bit eccentric. You do need this bit of eccentricity in order to think in a forward-moving way." He's also not a fan of the current trend he calls, "'eccentric' with air quotes. I remember when Sarah Jessica Parker started looking eccentric in the '80s, everybody was like, 'Is she crazy?' And she was always on the worst-dressed list, and now everyone on the Real Housewives of New York looks like Carrie Bradshaw, and it's kind of over."
Luckily, there are still a few originals out there. The designer chatted with us about some of his favorite classic and modern style icons, all of whom share a generous oddball strain.
Millicent Rogers
"Millicent Rogers was everything. She lived in New Mexico, and she collected unbelievable turquoise jewelry. There's a museum in Santa Fe of those artifacts. She was obsessed with Charles James as much as she was by the Navajos; she wore these fantastic Charles James ball gowns with Navajo jewelry. What could be more fabulous?
"I've done innumerable collections inspired by Millicent Rogers: four or five collections inspired directly by her, and then there's always something of Millicent Rogers alive in me. I tend to love women who look beautiful, and Millicent Rogers always did look quite beautiful. Whereas sometimes eccentrics look too funny, you know what I mean?"
Peggy Guggenheim
"She was the opposite [of Rogers] — she was an American girl who went to live overseas, bringing in all of this wonderful, American-style boldness, brashness, et cetera, [to Europe]. She also had all those great Surrealist artist lovers and those fantastic eyeglasses that she wore all the time."
Beth DeWoody
"I think she's pretty damn stylish and she's pretty crazy and eccentric sometimes. What I like about her is that style is not the essence of who she is. I think the most stylish people around are people who aren't as obsessed with looking a certain way; they just happen to look kooky and good. Because the thing is, being truly eccentric is not knowing you're being eccentric. She doesn't even know how crazy she is."
Lisa Eisner
"She was my first actual living muse. Lisa was so smart because she moved to L.A. in the '80s, when nobody lived in L.A. They lived there to make movies, and then moved away after the movie wrapped. But Lisa settled in and she kind of noticed the regionality of the place. She noticed the Mexican influence, the Asian influences — she noticed things about it and brought them out. That is a truly stylish person right there."