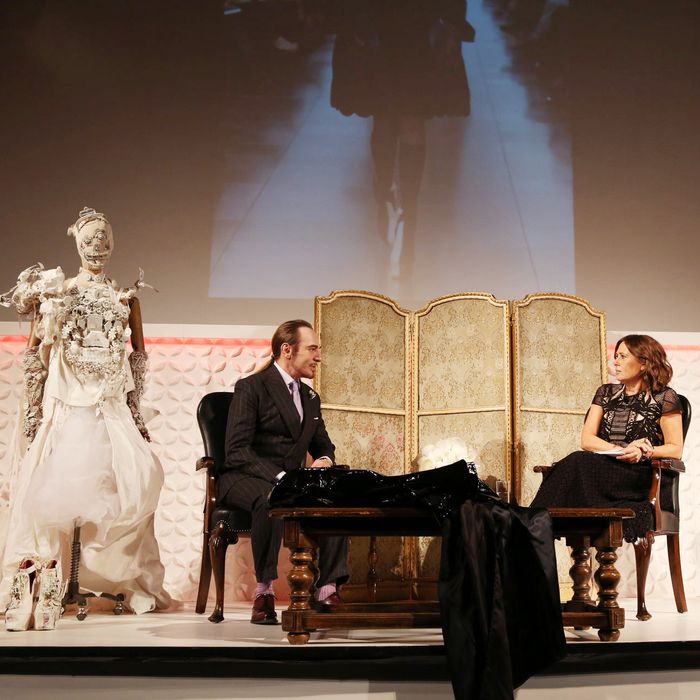 John Galliano and Alexandra Shulman.
Photo: Darren Gerrish
LONDON— This weekend, John Galliano gave an hour-long interview at the annual Vogue Festival — and there were barely any references to the scandal of 2011. The sold-out interview had an almost exclusively female audience, and it was instantly clear that it would be a supportive atmosphere: He entered the room looking apprehensive, but was greeted with applause and cheering.
It was a sympathetic setting in other ways, too. On a small stage, in an intimate auditorium, British Vogue's Alexandra Shulman interviewed Galliano next to a bunch of his favorite flowers, peonies. They were surrounded by pieces from his debut Maison Margiela couture collection; the entire interview focused on his new role, and what he described as "the marriage of JG and Martin Margiela." 
Despite the soft treatment, he seemed understandably nervous, and began the interview speaking very quietly. After a few minutes, Shulman suggested he talk her through the construction of his Maison Margiela pieces. When he showed the audience how he had repurposed a man's coat to make a wedding dress, there was further applause — and the more he discussed the new work, the more he appeared to relax, smiling as he explained the construction of each garment.
But he also seemed keen to point out that his working life has changed since his recovery. For example, he's now trying to limit his working time. "It's all-consuming when you're producing, producing, producing," he said. "But everyone benefits when you do take that time out. You're not only reenergized, but the way you work with people is much freer as well … [Time off] is worked into my agenda, and I am following a program as well, which helps me. But also I've learned to say no. It's such a little word, but I was so afraid to say it before, because I thought I would appear weak. But now I realize it's actually a sign of strength. So please — just say no! Only take on what you feel you can do really well."
There was also the question of whether he would be seeking the spotlight again. "Martin Margiela has made part of his identity being invisible, in a way, and over the years you've been one of the most visible designers," pointed out Shulman. "How visible do you think you're going to be in this new realm?"
"You know, I'm just going to take it day by day," he replied. "I did make an appearance in London when I presented my Intentions collection, but really I wanted to thank everyone for their support — everyone that had come to see the show. At the ready-to-wear … I wanted to put the spotlight back on the clothes. That's what I had decided to do anyway, in the four years that I've been out … It just felt really comfortable to be able to work like that."
And his approach to the work seems to have changed, too. Asked whether he is a morning or an evening person, he smiled. "I am a morning person," he said. "I can think clearly in the morning. And now when I do my fittings at Maison Margiela, everyone's a bit shocked, because I'd like to start at 9 o'clock. [It used to be] quarter to midnight! But no, John's changed now."