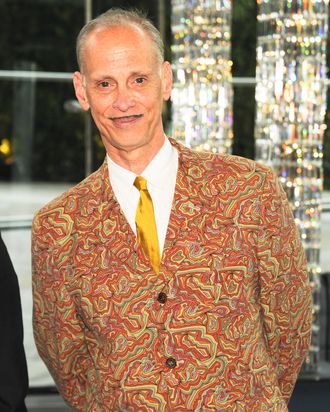 John Waters wearing Comme des Garçons at the CFDA Awards.
Photo: Neil Rasmus/BFA
There's a new theme every day on It's Vintage. Read more articles on today's topic: Comme des Garçons.
Fashion is very important to me. My "look" for the last twenty years or so has been "disaster at the dry cleaners." I shop in reverse. When I can afford to buy a new outfit, something  has to be wrong with it. Purposely wrong. Comme  des Garçons (like some boys) is my favorite line of clothing, designed by the genius fashion dictator Rei Kawakubo. She specializes in clothes that are torn, crooked, permanently wrinkled, ill-fitting, and expensive. What used to be called "seconds" (clothes that were on sale in bargain basements of department stores because of accidental irregularities) is now called "couture." Ms. Kawakubo is my god. The fashion historian Kazuko Koike has described Rei as "almost like the leader of a religious movement." I genuflect to Rei's destruction of the fashion rules. She is formidable, reclusive, intimidating, and has described her work  as an "exercise in suffering."…
[John later went on to walk in a runway show for Kawakubo and details his experience below.]
… I modeled for Rei Kawakubo once. In Paris. In those tents outside the Louvre where collections are unveiled every year. I was really surprised to be asked but leaped at the chance for a new job. Me? A model? I guess Rei had seen press photos of me wearing some of her outfits to openings, or maybe the salespeople told her what a fan I was. Before accepting, I begged that Comme des Garçons consider my age (forty-six at the time) and maybe let me wear some of her more conservative outfits, not the most ridiculous ones. I loved the most ridiculous, but, please, let the "real" models strut their stuff in them. However, I soon learned there were no "real models." Rei likes her menswear modeled by amateurs — boys off the European street — who are somehow rounded up to wear her amazingly ludicrous and beautiful clothes on the runway. …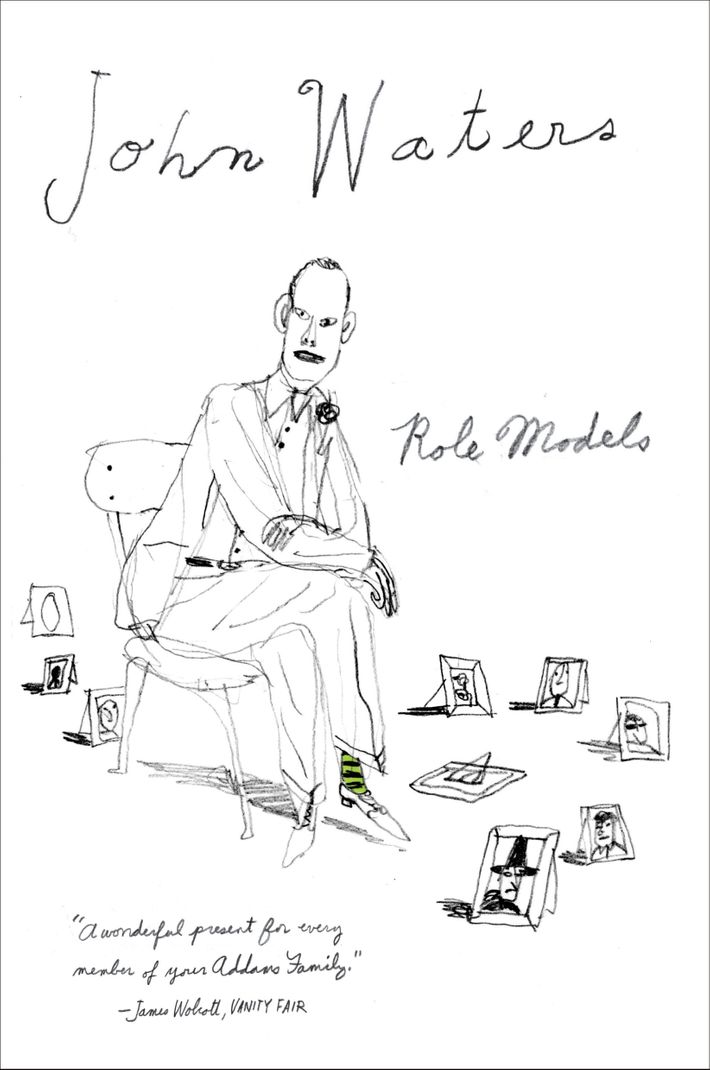 … The day of the show, I'm backstage with all the motley cool pretend models who looked more like drug-addled janitors or concentration camp victims (Rei later got in trouble for designing pajama-type outfits that some misguided critics claimed were reminiscent of death camp uniforms) and I realized that here were the kind of boys I like best — my type if there ever was one. I could hear the buzz (or was it the venom-dripped whispers?) of the A-list fashion press on the other side of the curtain and suddenly I got up my nerve. Until I was told I had to go out first. Talk about terror. Right before I had to go on, I had to pass through the stylists and end up later under the hawk eye of Rei herself for a final inspection. She took in my entire look in one critical glance and suddenly grabbed the collar of my shirt and yanked it sideways so it hung clumsily. Whatever courage I had managed to work up vanished instantly, but she gave me a severe pat of confidence and shoved me through the curtain onto the runway.
Jesus Christ, I'm a model  in Paris. Don Knotts meets Mahogany. Cover of Spy magazine, here I come. But be brave, I thought, hold your head high and look unafraid. I walked to the end of the runway, turned around, and people applauded, quietly and severely. Other models followed me. No one laughed. It started to feel kind of great. It's a long way from Lutherville, Maryland, to the runways of Paris. How did this ever happen? …
Excerpts from "Rei Kawakubo" from ROLE MODELS by John Waters. Copyright (c) 2010 by John Waters. Used by permission of Farrar, Straus and Giroux, LLC.